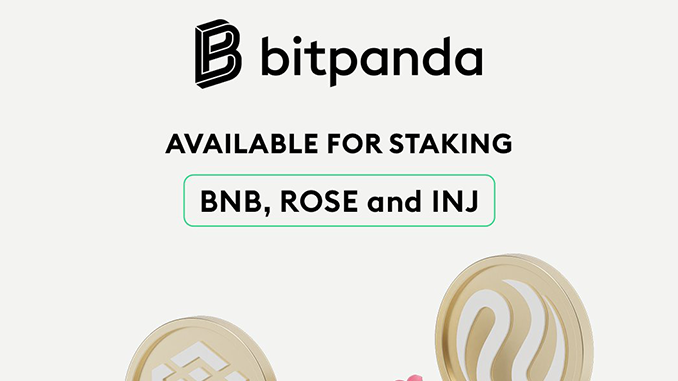 The crypto exchange Bitpanda is expanding its staking service and integrating Binance Coin (BNB), Injective (INJ) and Oasis Network (ROSE). This means that a total of 20 altcoins can now be staked on Bitpanda for passive income.
We have already informed you many times about the possibility of earning passive income by staking crypto assets. In this context, a recent announcement from the crypto exchange Bitpanda, which is expanding its staking program, is interesting. As of now, Binance Coin (BNB), Oasis Network (ROSE) and Injective (INJ) can also register with Bitpanda for staking. The crypto exchange, headquartered in Austria, has a license from the German Federal Financial Supervisory Authority (BaFin) and is popular in this country not only because of its German-language support.
In total, Bitpanda now offers staking services for 20 different cryptocurrencies, a full overview can be found here. Among the new additions, Binance Coin (BNB) is certainly the best known. Started as a discount token for the crypto exchange Binance, BNB has since developed into a thriving ecosystem. Bitpanda assumes an annual interest rate of 2 to 3 percent, which can be achieved when staking Binance Coin. This can certainly be compared to what Binance itself charges for BNB staking.
Less well known are Oasis Network (ROSE) and Injective (INJ). Oasis Network is used for projects in lines ranging from Decentralized Finance (DeFi) to blockchain gaming, with ROSE being native token. 4 to 5 percent APR is predicted by Bitpanda for ROSE staking, a competitive figure compared to other providers. For INJ Staking, in turn, Bitpanda expects 13 to 15 percent annual interest. Project Injective touts itself as providing a blockchain optimized for financial sector applications with Web3 in mind. Bitpanda's assumed minimum 13 percent APR when staking INJ is above average.
Conclusion: Bitpanda with Staking for BNB, INJ and ROSE.
In general, the rules for staking at Bitpanda are fair. Deposited funds can be withdrawn at any time, distributions for staking happen weekly, and all fees are already included in the projected annual interest rates. Especially for investors who like to do all their crypto business on one platform, Bitpanda's staking offensive () is attractive because there portfolio is now growing steadily and current additions like ROSE and INJ also take into account the supposed second tier of staking coins. If you already hold cryptocurrencies that are suitable for staking, Bitpanda's offer is certainly worth a closer look.