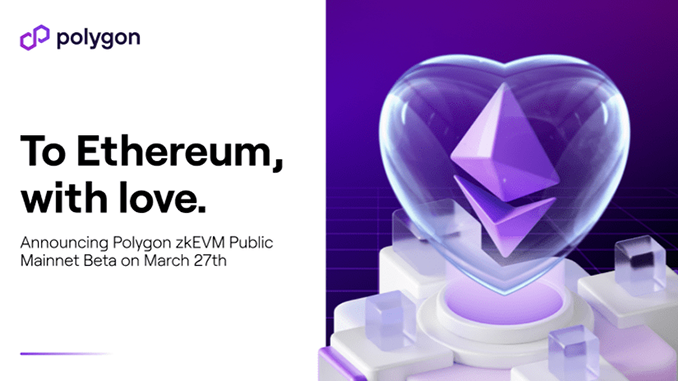 At Polygon (MATIC), the highly anticipated zkEVM integration has been given a launch date. On March 27, Polygon zkEVM Mainnet Beta is scheduled to go live, strengthening connections to the Ethereum (ETH) ecosystem.
Polygon (MATIC) is sailing 2023 on the road to success, with its price curve up about 70 percent since the beginning of the year. Polygon has established itself as the number one so-called Layer 2 solution for saving fees and time, and not just in the Decentralized Finance (DeFi) division. An update with the bulky title zkEVM had last been announced by Polygon in January, now there is a launch date of March 27 through an official blog post.
EVM stands for Ethereum Virtual Machine, the standard solution to organize smart contracts. zk is the abbreviation for "zero knowledge" and makes it possible to validate transactions even if participating parties provide only limited information. According to Polygon, the zkEVM combination was previously only available in a roundabout way and now brings a "seamless experience" to the MATIC and Ethereum (ETH) ecosystems. Accordingly, developers can in the future simply copy their code from Ethereum projects into Polygon's zkEVM and do not have to make any special adjustments. This has the advantage of bypassing the often disproportionately high transaction fees on Ethereum and outsourcing validations to Polygon's zkEVM Mainnet Beta. After six months of intensive testing with zkEVM, Polygon expects fees of around $0.06 for a bundle of transactions – Ethereum also charges more than $10 at peak times.
Initially, the zkEVM Mainnet Beta is intended to stand on its own and be an option to use Polygon's services. With which function range the module comes to MATIC at the launch, is to be announced in the coming weeks. In the medium term, Polygon co-founder Mihailo Bjelic can imagine embedding zkEVM into MATIC's existing mainnet as well.
Conclusion: Polygon takes a big step towards the future with zkEVM
In general, the "zero knowledge" approach also makes it easier to link inherently incompatible ecosystems, which is why zk is attracting a lot of interest in the crypto industry. Polygon is likely to reaffirm its technological edge over other Layer 2 solutions through zkEVM, and since MATIC remains the payment method for fees, positive effects for the price curve are conceivable. As you can see, complicated-sounding titles like zkEVM at Polygon sometimes conceal technological details that could also be relevant for investors.