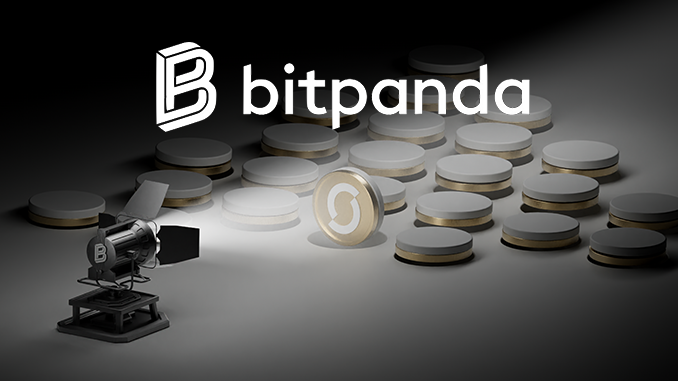 Investment platform Bitpanda is launching a program called Spotlight to promote young cryptocurrencies and loyal customers. IOTA side project Shimmer (SMR) is slated for launch.
Live for a good five months already, Shimmer (SMR) is an IOTA side project that launched in September 2022 and has since attracted at least as much attention as IOTA itself. Now, trading platform Bitpanda has announced the launch of its Spotlight customer program, drawing applause from Team Shimmer in particular. That's because SMR is to be the first cryptocurrency newly listed on Bitpanda as part of Spotlight, and active customers will even get some Shimmer for free on top.
Shimmer at Bitpanda Spotlight – this is how you secure the SMR bonus.
Bitpanda has had its own altcoin, BEST, since 2019, which is a discount token modeled after Binance Coin (BNB). In addition, Bitpanda uses the number of individually held BEST as a criterion to divide its customers into VIP groups from zero to five. With Spotlight and Shimmer as debutants, BEST gets another extra: For every new token listed through Spotlight, Bitpanda has a limited number – SMR in this case – to distribute to VIP customers for free. According to the announcement, this is 370,000 Shimmer, whose current market value is the equivalent of just under $28,000.
Anyone interested in the bonus promotion must sign up for the waiting list for Shimmer at Bitpanda Spotlight and have BEST on their customer account. The entry for this is currently not yet possible via the Bitpanda apps, but must be done via the Bitpanda web presence. As soon as trading with SMR is opened, Bitpanda distributes its package of Shimmer to the registered BEST VIP customers in parallel. The rule here is that VIP Level 1 simply guarantees the individual bonus, Level 2 provides double bonus and so on to Level 5 and five times the reward in Shimmer.
Shimmer at Bitpanda – a good sign for SMR.
Shimmer did put in a good first week on the exchange in October 2022, but after launching on crypto exchanges Bitforex and Bitfinex, no others have joined it so far. As a result, SMR trading suffers from very low liquidity and easy ways to buy and sell shimmer on regulated crypto exchanges. Bitpanda is a large reputable market player with a crypto division especially in German-speaking countries and and thus has the potential to solve the Shimmer trading problem.
Recall that since Shimmer is based on an advanced version of IOTA technology, integrating SMR is not a routine case for crypto exchanges, but requires additional effort. In this respect, Bitpanda's decision to promote Spotlight with Shimmer is also a clear commitment to the IOTA ecosystem. Precisely because even IOTA itself, with its six-year exchange history, is missing from the portfolio of major crypto exchanges like Coinbase or Kraken, every trading venue that dares to list counts. It seems quite possible that Bitpanda's move per Shimmer will spur competitors to list SMR and/or IOTA as well.
Bottom line: Bitpanda Spotlight – limited innovation, but generally recommendable.
Other crypto exchanges such as Binance with Launchpool also often have special zones and programs tailored to young, particularly high-risk cryptocurrencies, while also serving to retain customers. So Bitpanda hasn't reinvented the wheel here with Spotlight, but that still doesn't make the promotion itself any less attractive. The second coin after Shimmer, which will soon receive extra treatment at Bitpanda via Spotlight, will be CORE from the DAO project of the same name. We think: This is good news not only for Shimmer, but also reasons for investors to take a closer look at Bitpanda and BEST.