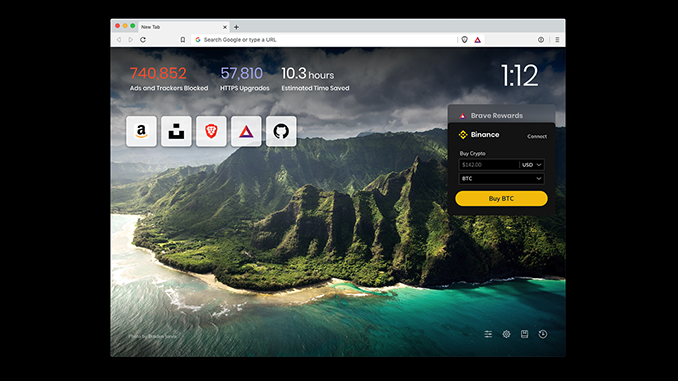 The Brave Browser linked with Basic Attention Token (BAT) is being extended by an interesting function in cooperation with the crypto exchange Binance: In future, Brave users will be able to manage their Binance account in a small side window and also conduct crypto trading.
Brave and Binance have agreed on a cooperation that is to make trading crypto currencies more convenient. A press release proudly states that a Binance widget will make the Brave Browser the first browser to directly integrate trading with Bitcoin. You can imagine it similar to a plug-in: While you are surfing the Internet with Brave, a page window shows the status of your account with Binance and you can manage your trading with Bitcoin and Co. directly from there. Technically interesting: The Binance tool is directly anchored in Brave's code and interacts with Binance only via an API. This concept is designed to guarantee privacy and security. The Binance widget is already available for the developer version of Brave ("Nightly"), for the standard version of Brave it will be updated in April.
Background to Brave and Binance
The Brave Browser promises to optimize private surfing and even reward users with Basic Attention Tokens (BAT). This is made possible by Brave blocking normal online advertising and attracting ads acquired from its own partners instead of those acquired from other partners. Brave has been available in full version since November 2019 and has more than 12 million users by its own account. Brave CEO Brendan Eich praises the cooperation with Binance as an important step to bring crypto currencies closer to the mainstream.
Binance is considered the largest crypto exchange worldwide and is usually open to innovative projects. CEO Changpeng Zhao said that Brave will make it "smoother" for Binance customers to organize their own trading. He is looking forward to a long-term cooperation with Brave.
Binance and Brave a dream couple for crypto investors?
The screenshots and project description make a sophisticated impression. Instead of having to deal with several windows on the computer, it is now easier to have everything important at a glance. The Brave Browser convinced in our test earlier and Binance is certainly one of the recommended crypto exchanges. The win-win situation outlined above can also lead to a solution where Brave users receive BAT, but so far they have only been able to donate and not make money for themselves. As a side effect, Binance should develop into the leading marketplace for BAT. In addition, the two sides now also advertise for each other through their close intermeshing.
---