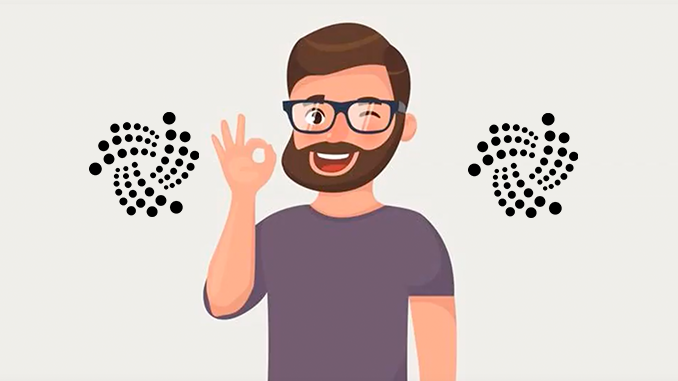 The Coronavirus is keeping the world on tenterhooks and resourceful developers see a chance to use IOTA's Tanglenet to stem its proliferation. Their idea: With a simple app, citizens register and receive anonymous information if contact persons have been infected.
IOTA as help against the corona virus? With this goal in mind, the concept of developing an app called TrackCovidCluster was born. It will use IOTA's Tanglenet, which allows to document information in a tamper-proof way and to exchange it in real time. This should serve as a technological basis for citizens, health authorities and other agencies to actually use the app. TrackCovidCluster was presented and already programmed as a prototype in the context of the Hackatahon "WirVsVirus" organized by the German government.

How the anti-coronavirus app should work with IOTA
Taiwan is cited as the model for TrackCovidCluster. In some cases, rigid measures were taken there to systematically record individual risks of infection with the coronavirus and to inform or warn individual people about them. In a free society such as Germany, however, nobody wants to be stigmatised, which is why anonymity is a high priority, even if the same procedure is used as in Taiwan. According to the vision of the TrackCovidCluster project, as many citizens as possible should first download the app and enter their current status: infected, possibly infected or probably not infected. If the status of the coronavirus changes, for example due to a positive or negative test result, this should also be indicated in the app with a simple click. In the background, this data is exchanged and analyzed by the Tanglenet of IOTA. It is then possible to immediately warn contact persons and ask them to take a test. With a code, the urgency would also be transmitted to the local health authority. Of course, all this should be free of charge.
Can IOTA benefit from TrackCovidCluster?
The images of coronavirus-caused cadavers eat into the collective memory and should make it clear to everyone that unconventional solutions can also be useful for containment. However, for TrackCovidCluster to really make sense, the project would need the blessing and support of government agencies, it would have to become the official app against the coronavirus. Because TrackCovidCluster only makes sense with mass use. So TrackCovidCluster will probably remain an exciting game of ideas for the time being, which at least helps the tarnished image of IOTA. Meanwhile, IOTA's share price has risen significantly in line with the market as a whole and is currently quoted at a good USD 0.14. Investors seem to have regained confidence in the project even after the IOTA crisis due to the security gap in the official Trinity Wallet.