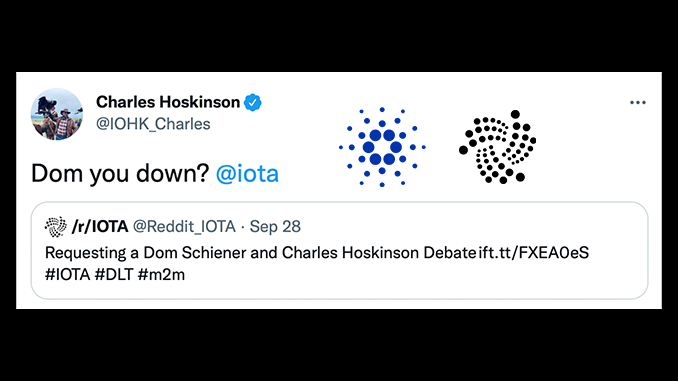 Charles Hoskinson, founder of Cardano (ADA), has invited Dominik Schiener, co-founder of IOTA, to a public discussion. Topics are likely to include successes in their projects and cooperation.
IOTA has just completed the launch of side project Shimmer (SMR) and Cardano (ADA) recently received the major upgrade Vasil. In both cases, those responsible and communities like to talk about "milestones". This is probably one of the reasons why Reddit wanted to invite the masterminds of IOTA and Cardano to a public discussion. Charles Hoskinson, who is the founder in charge at ADA, took up the suggestion and asked Dominik Schiener, head of the IOTA Foundation, via Twitter. Schiener, co-founder of IOTA, agrees and plans to bring developer Hans Moog to the meeting with Hoskinson.
While the two crypto chiefs have not yet agreed on a date and location, the list of topics for their discussion is already well filled. From recent developments in Cardano and IOTA to future prospects, followers want to get first-hand information, they write on social media. They are also taking up an idea from early 2021 to technologically connect the two ecosystems via a bridge. In the process, Hoskinson and Schiener were not always on the same page. In March 2021, Hoskinson sharply criticized IOTA and claimed that the freedom from fees promised in Tanglenet was window dressing and did not even exist on closer inspection.
On the other hand, Hoskinson is also known for not always taking the truth seriously. Not only the Cardano community was shocked by the glossing over of his curriculum vitae. Schiener, on the other hand, cannot make his hacker past unforgettable and his leadership style at the IOTA Foundation is controversial. So, if the two crypto celebrities endowed with strong egos want, they could also talk about downsides of fame and responsibility.
Bottom line: are Cardano and IOTA moving closer together?
Whether the planned meeting of Hoskinson and Schiener will later turn out to be a purely promotional event cannot be ruled out. But the lively communities of IOTA and Cardano are more likely to hope that regular cooperation could also be agreed via personal ties. IOTA with Shimmer and Cardano with the upcoming upgrade Hydra are working intensively on making their ecosystems compatible with external networks via bridges in order to promote expansion.
---