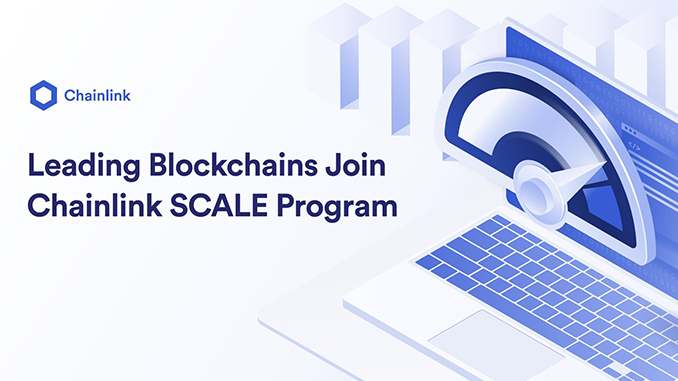 Chainlink (LINK) wants to make it easier for external networks to access its services with the new SCALE program. The focus is on the cost issue. Among others, Avalanche (AVAX) is participating in SCALE at Chainlink.
Chainlink (LINK) has become a market leader in the crypto industry for so-called Oracle Services. This allows real-time data from crypto prices to sports scores to flow into smart contracts in an automated way, allowing use cases from DeFi to betting transactions. To spread its services further, Chainlink is now launching the SCALE program. Supporters include Avalanche (AVAX), one of the leading DeFi tokens, according to the press release.
SCALE allows third-party networks like Avalanche to use services from Chainlink at reduced fees. This allows them to test out which offerings are suitable for applications. In the medium term, fees will then be passed on to end customers who use DApps, for example. Chainlink expects the SCALE initiative to have a "turbo effect" on expansion plans, according to the press release. In addition to Avalanche, Metis, Moonbeam and Moonriver have already signed up for SCALE with Chainlink. In 2022, just over $6 trillion worth of business will have already been transacted that accesses Chainlink's data services, it says.
Chainlink is currently hosting a crypto conference in New York. It became clear that SCALE is part of its plans to gain a further foothold in promising lines of business. To this end, Google ex-CEO Eric Schmidt was also engaged in December 2021 to establish and deepen contacts with companies that are not from the crypto industry.
Staking for LINK to start in December
Importantly for investors, the announcement to create a passive earning opportunity through staking for LINK is taking shape. According to co-founder Sergey Nazarov, Chainlink will launch Staking for investors this December. Starting in October, the plan is to sound out who will be invited to the soft launch of LINK Staking. Nazarov spoke of a version 0.1 at Staking for Chainlink.
Conclusion: Chainlink wants to expand – LINK is waiting for impulses
Chainlink opens the doors wide for potential new customers with its discount promotion SCALE. This is also a reaction to the state of mind on the crypto market, which scrutinizes investments more critically than in boom phases. Meanwhile, LINK itself is trading sideways at around 8 US dollars and hardly showed any reaction to Chainlink's plans – because they hardly promise any direct monetary impulses, at least in the short term. But Chainlink again demonstrates not to rest on successes, but to proactively provide for more and more use cases. Here, LINK normally serves as a means of payment for Oracle Services, which is why many analysts continue to be optimistic about the future for Chainlink.
---