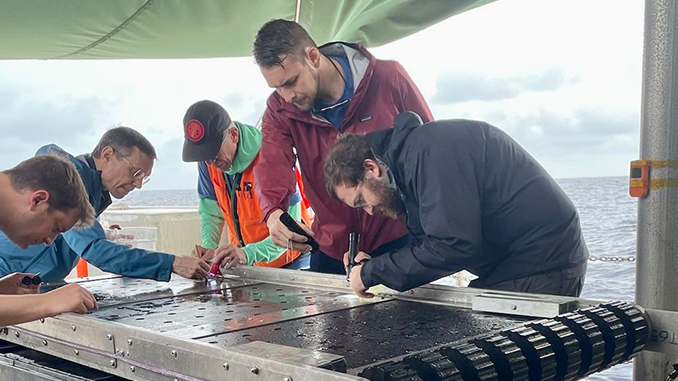 The founder of Cardano (ADA), Charles Hoskinson, is known as an eccentric. With his current search for evidence of extraterrestrials, Hoskinson is reaching new heights.
A lot is going wrong for Cardano (ADA) at the moment, and the legal uncertainties fueled by lawsuits from the U.S. Securities and Exchange Commission (SEC) are quite serious in this regard. But Cardano founder Charles Hoskinson surprised his one million Twitter followers these days with reports of a research vessel underway in the Pacific. There, Hoskinson is part of a team that, in his own words, is on the "hunt for extraterrestrials." Even if some may now ask themselves whether Hoskinson has finally gone crazy, the expedition has scientific reasons. For Cardano, however, Hoskinson's latest capers may not be helpful.
The trip is led by physics professor Avi Loeb. He wants to find out more about the mysterious meteorite that hit the Pacific Ocean in 2014 and is now known among experts as "IM1". "IM" here stands for Interstellar Meteorite and the number one for the first known object of its kind. IM1 is so special because its reconstructed trajectory suggests that this meteorite started outside our solar system and was given its path. This is because gravitational forces from other celestial objects appear to have had only a minor effect on IM1's trajectory. At least that's how Professor Loeb explains the motivation for the expedition in his blog, where he also thanks Hoskinson for a $1.5 million grant. The founder of Cardano is a "brilliant technology entrepreneur and mathematician," Loeb writes.
At least Hoskinson's abilities as a mathematician may be doubted since it became known that the Cardano boss lied on his academic resume. But Hoskinson underlines his talent as an eccentric entertainer on Twitter with photos, whimsical comments and live broadcasts from aboard the research vessel. He is convinced that the analysis of fragments from IM1 will reveal where aliens are and how far ahead of humanity they are technologically. The fact that his criticized private jet was used to travel to the expedition off the coasts of Papua New Guinea is probably as much a minor matter in this context as ADA.
Bottom line: does Hoskinson's hobbies push Cardano over the edge?
Charles Hoskinson regularly provokes with his appearance, and a large group of fans is countered by at least as many critics. Neutral observers have therefore doubted for some time whether Hoskinson as the mouthpiece of Cardano is still good for ADA. We do not want to interfere today and at this point further and follow with popcorn amused the mission of Hoskinson and Loeb to try the proof for extraterrestrial life. Because somehow the 35-year-old is right: There are more important things than Cardano.
---