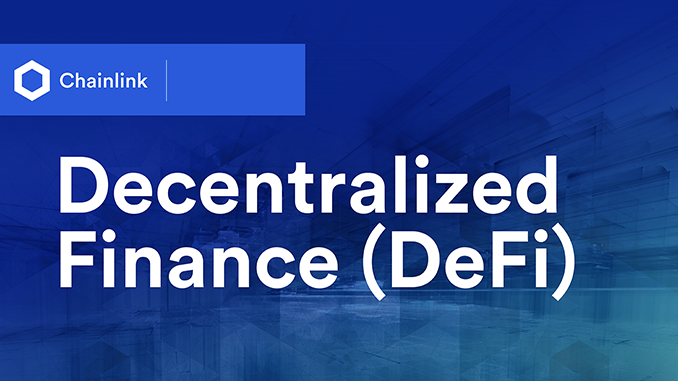 Chainlink (LINK) is developing into a success story: The Altcoin has reached one all-time high after another in the past six weeks and is now trading at almost 10 US dollars. Zeus Capital, on the other hand, sees LINK as a possible "scam" and is running a public campaign.
No more trace of Corona crisis at Chainlink: In the last seven days alone, LINK's share price has risen by a good 30 percent and is already scraping the magic mark of USD 10 with its new all-time high of a good USD 9.60. At the turn of the year, LINK was still around 2.00 US dollars and then in March reached an all-time high of just under 5.00 US dollars for the first time this year. But then came the "black Thursday" on the stock and crypto markets and LINK also fell back to USD 2.12. The race to catch up began for Chainlink at the end of March, the USD 5.00 mark was taken at the end of June and since then the price curve has continued to rise seemingly unstoppably. But not everyone likes the success. The investment managers of Zeus Capital, for example, warn in a detailed paper against investing in LINK and forecast the bursting of a bubble.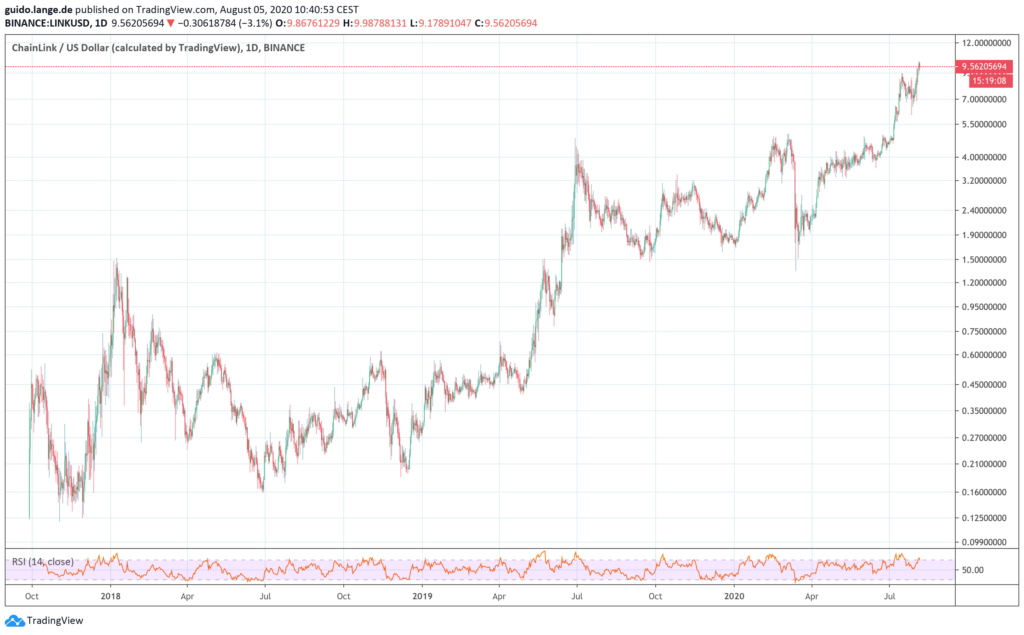 Pro and Contra Chainlink
Chainlink focuses on feeding real-time data from external sources into external block chains and smart contracts in an automated and tamper-proof manner. Major cooperation partners include Google and Oracle as well as Deutsche Telekom. Customers of Chainlink are, for example, DeFi projects such as Kyber Network (KNG), but also Tezos (XTZ), who use Chainlink to determine and record crypto prices. LINK is often counted among the coins of the DeFi division. According to this classification, LINK is by far the most important coin in this young industry with a market capitalisation of around 3.7 billion US dollars. In a blog post, Chainlink describes itself more as a service provider for DeFi projects than as a typical DeFi coin.
Zeus Capital has been raging against LINk for weeks, tweets like this one are exemplary. LINK from Zeus Capital is dealt with in more detail in the analysis mentioned above. There SmartContract, the company behind Chainlink, is accused of conflicts of interest and possible price manipulation. In addition, the team is inexperienced and LINK is still running on a test network from Ethereum. Furthermore, Zeus Capital estimates the target market for Chainlink at a maximum volume of 300 million US dollars and therefore sees LINK hopelessly overvalued. Zeus Capital sets a price target of 0.07 US dollars and recommends investors to sell immediately. LINK is a single bubble, is the tenor of Zeus Capital. However, Zeus Capital itself is active in the crypto markets and could be stuck in positions with LINk that explain the rigorous campaign against Chainlink.
Conclusion. Hype about LINK – What you should do as an investor?
Chainlink is now traded on all leading crypto exchanges, some of which also allow trading with derivatives. With its enormous price increases, LINK is undisputedly one of the stars of the crypto year 2020, and there are of course experts who believe that LINK's soaring rise is far from over. But even if the tone of critics like Zeus Capital often sounds aggressive – their doubts about the future of LINK have a certain substance. Anyone who wants to jump on the bandwagon at Chainlink should therefore take the time to analyse the project more closely and not blindly fall for FOMO.
---
Best place to buy Chainlink is on Binance. Open a Binance Account here and save 10% on fees for a lifetime.