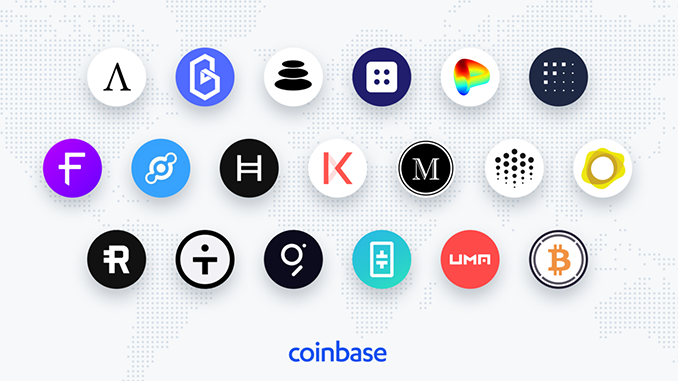 Coinbase has published a list of 19 crypto-currencies that might be added to the portfolio in the future. Among them are for example Hedera Hashgraph (HBAR) and Ampleforth (AMPL), which are mainly up-and-coming names. The US crypto exchange is continuously expanding its range of products.
In the USA, Coinbase is considered the market leader among the crypto exchanges for the spot market, also because Coinbase is constantly broadening the range of crypto currencies traded there. Once again Coinbase calls now by Blogpost crypto currencies – this time 19 -, which are intensively observed and examined. They could soon be listed at Coinbase, they say. In general Coinbase wants to achieve to gather so many crypto currencies in its portfolio that they theoretically gather at least 90 percent of the market capitalization of the total market. The coming weeks and months will therefore be exciting for Coinbase:
Ampleforth (AMPL): sees itself as a flexible digital replacement currency
Band Protocol (BAND): links smart contracts with real-time data
Balancer (BAL): simplifies the exchange of crypto currencies, DeFi
Blockstack (STX): wants to push Smart Contracts and DApps
Curve: creates additional liquidity in the DeFi division
Fetch.ai (FET): brings together artificial intelligence and blockchains for IoT
Flexacoin (FXC): simplifies payment transactions with crypto currencies
Helium (HNT): is building its own wireless network for the Internet of Things (IoT)
Hedera Hashgraph (HBAR): an ecosystem supported by large-scale industry
Kava.io (KAVA): Token for in-house DeFi platform for crypto loans
Melon (MLN): facilitates automated investment strategies
Ocean Protocol (OCEAN): monetizes data, for example from vehicles
Paxos Gold (PAXG): gold based stablecoin
Reserve Rights (RSR): protects the Stablecoin RSV
tBTC (TBTC): will bring Bitcoin into Ethereum's DeFi offerings
The Graph: planned as a utility token for DeFi, among others
THETA: realizes own network for video and rendering
UMA: automates individual derivatives from the crypto sector
WBTC: ERC20 token on bais of Bitcoin
So Coinbase has put together a colourful and interesting mixture of projects that are at least considered capable of making the step onto the big stage. DeFi as the trend topic in the crypto year 2020 is taken up by names like MELON, UMA or Curve, the Internet of Things (IoT) by Helium and Fetch.ai. OCEAN and BAND, for example, illustrate the linking of real-time data with block chains, while Paxos Gold and Reserve take account of the growing importance of stablecoins. Bitcoin and Ethereum in everyday life and trading want to bring WBTC and tBTC closer together, Hedera Hashgraph stands for crypto currency and ecosystem according to industrial requirements.
Surprisingly, Coinbase this time lists several crypto currencies that were originally launched by the big competitor Binance through an IEO, such as KAVA, FETCH and BAND. This also shows the challenge Coinbase is facing: On the one hand, the company wants to expand its portfolio to offer customers more possibilities and to remain attractive. On the other hand Coinbase has to be careful in the strictly regulated US market to foresee sufficient liquidity when listing crypto currencies and to sift out possible security coins without approval. The preparatory work of Binance is obviously benefiting Coinbase, but Binance should also be pleased about additional markets for promising coins.
Conclusion: Coinbase plans hot autumn with extended portfolio
As usual Coinbase emphasizes that the now publicly new list of crypto currencies on the test bench is no guarantee for an actual listing. This is quite relevant for you as an investor: Because if Coinbase lists a crypto currency, the so-called Coinbase effect usually occurs. With the listing at Coinbase crypto currencies often increase in the short term in percent in two digits in price, because they become known to the broad basis of more than 40 million customers predominantly for the first time. One should also keep in mind the last Coinbase list from June, which is far from being finished. There are indications that Coinbase is increasing the pace in order to reduce the gap to Binance in terms of the variety of offers.