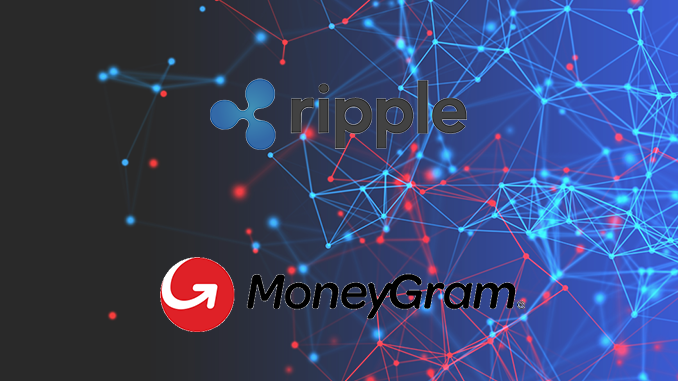 Ripple (XRP) keeps quiet about regular cash flows to its strategic partner MoneyGram vornehmle. But MoneyGram as a listed company has to publish these. Converted into XRP, MoneyGram received 15.1 million US dollars from Ripple in the 2nd quarter alone.
When Ripple (XRP) made a major investment in June 2019 in the international financial services provider MoneyGram, many people were surprised: Ripple invested 50 million US dollars in two phases in shares of MoneyGram, and many do not consider this investment a particularly good deal. Meanwhile, it is becoming increasingly clear that Ripple is continuing to inject money into MoneyGram in the form of XRP. The information is hidden in the small print of MoneyGram's most recent quarterly report for April to June 2020. According to the report, MoneyGram received 15.1 million US dollars of XRP during this period from Ripple, which MoneyGram records as "fees for market development" and "expenses for trading".
Background on MoneyGram and Ripple
Those who welcomed Ripple's entry into MoneyGram were certain that the strategic partnership with an established provider of cross-border money transfers would finally allow XRP to demonstrate its strengths as a digital bridge currency on a large scale. Skeptics note: MoneyGram already posted losses last year and nothing has changed in this regard; the bottom line for MoneyGram in 2020 is a minus of 4.6 million US dollars for the second quarter. However, MoneyGram's share price has risen significantly since Ripple's investment, and investors on traditional stock exchanges appreciate the financially strong partner.
For XRP, on the other hand, things are not going so well: In June 2019, after the announcement of the MoneyGram cooperation, the share price jumped to well over USD 0.40, but XRP is currently trading at just over USD 0.30 again. In addition, XRP has meanwhile lost the prestigious third place as the third most important crypto currency after Bitcoin (BTC) and Ethereum (ETH) to Stablecoin Tether (USDT).
According to available information, MoneyGram will receive the additional XRP based on the sales generated by the use of XRP. According to the company, these XRPs are not held, but are immediately resold. In the 1st quarter of 2020, the revenue generated from this was $16.6 million. In plain language: Ripple has therefore not only invested in shares at MoneyGram to strengthen the spread of XRP. Ripple also uses escrow accounts to keep MoneyGram – to put it simply – happy. The originally agreed partnership between MoneyGram and Ripple will not expire until July 2023.
Conclusion: Ripple and MoneyGram – really a sensible duo?
It's striking that Ripple does not communicate the constant transfer from XRP to MoneyGram itself, but that this only becomes clear by carefully studying MoneyGram's quarterly reports. Also with other expansions – for example towards Asia – Ripple takes large amounts of money in hand to push XRP subsidized on the market. Such rather opaque deals fuel inflation, some XRP investors have been saying for some time and see a danger of inflation. In addition, there are class actions in the USA.
Nevertheless, XRP has made up for the price losses in the wake of the Corona crisis in March. However, news like that of the continuous payments to MoneyGram does not exactly contribute to believing in a prosperous future of XRP as a bridge currency in the financial sector. Without subsidies, the traditional financial industry seems to spurn XRP, while Ripple's block-chain-like technology is being used willingly and increasingly. Once again, the future of XRP is uncertain, and Ripple would probably find it difficult to split off due to contractual ties. Transparent information on Ripple's liabilities makes it very difficult to make price forecasts.
---
Best place to buy Bitcoin: