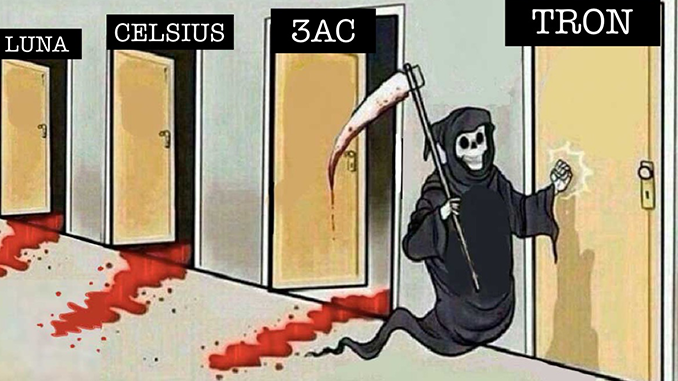 Massive drops in the value of Bitcoin (BTC) and Co. are leaving their mark on the crypto industry. Coinbase and others are significantly reducing their workforces. The hedge fund Three Arrows Capital is facing insolvency.
The mood on the crypto markets is lousy, red numbers as far as you can look. The lead currency Bitcoin (BTC) has fallen back to a price level of around 21,000 US dollars, registering a 30 percent minus in the past week. The downward trend, which has been ongoing for weeks, is now also affecting many well-known companies in the crypto industry.
U.S. crypto exchange Coinbase has officially announced the elimination of 1,100 jobs, or 18 percent of its workforce. CEO Brian Armstrong, in an open letter, talks about the recession setting in and Coinbase having previously grown too fast. There are similar messages from BlockFi, where CEO Mac Prince explains 20 percent job cuts via Twitter, or Gemini, where there will initially be ten percent fewer employees.
Fears for Three Arrows Capital – domino effects feared
The situation seems particularly dramatic at Three Arrows Capital (3AC). This billion-dollar hedge fund specializes in crypto and has invested heavily in Polkadot (DOT), Avalanche (AVAX) and Ethereum (ETH), among others. Three Arrows Capital has already ruffled feathers in the crash of Terra (LUNA) and UST. Now, rumors are swirling that 3AC is no longer able to service lenders due to the price decline in crypto markets. Respected crypto journalist Frank Chaparro reported critical skew at Three Arrows Capital and suspicious silence via Twitter. Su Zhu, co-founder of 3AC, meanwhile vaguely announced via Twitter that they were discussing solutions with partners.
But crypto specialist Degentrading is already venturing online a glimpse into the near future. Payment defaults by 3AC will have an impact on many other crypto companies, in his opinion. Add to that the situation at Celsius, where the blocking of withdrawals also points to insolvency danger. If a wave of bankruptcies starts in the crypto industry, we should also expect further drastic price losses in Bitcoin and Altcoins, Degentrading said.
Conclusion: crypto industry under considerable pressure – prominent victims to be expected
Compared to its all-time high from 2021, Bitcoin has lost more than 60 percent in price and leading altcoins often fared even worse. The combined market capitalization of all cryptocurrencies has fallen to just under $900 billion, while in November 2021 it was still scratching the $3 trillion mark. The massive losses of course also hit the industry, where reserves and investments are predominantly counted in crypto. Job cuts like at Coinbase, Gemini or BlockFi are bitter for affected employees. But in the event of possible insolvencies of Celsius and 3AC, billions of US dollars of customer funds will also be dragged into the vortex, which could provoke panic reactions.
---