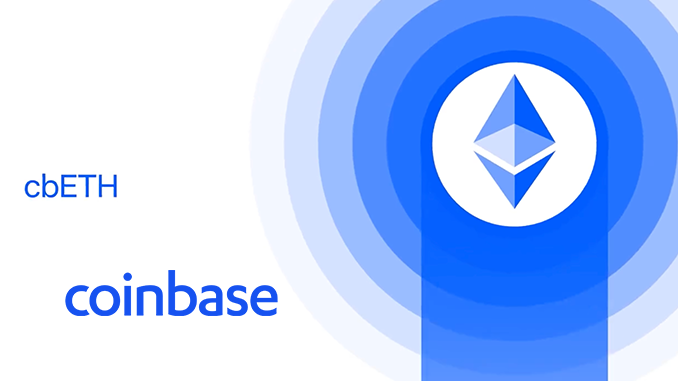 Coinbase has been offering staking for Ethereum since 2021. But this ETH is not accessible until further notice because upgrades are pending for Ethereum. As an interim solution, Coinbase is therefore launching cbETH, mimicking the concept of Lido.
Ethereum (ETH) is due for "The Merge" in mid-September and the upgrade will fundamentally change the protocol. In preparation for "The Merge", there was and is the possibility to stake Ethereum, Coinbase has also had this offer in its program since the end of 2021. However, the hope of regaining access to staked ETH with "The Merge" is not fulfilled for the time being. They will remain in the Beacon Chain, the testnet for Ethereum 2.0, until a later update. Coinbase is now solving this dilemma following the example of Lido, where a wrapped token has been successfully established with stETH since the end of 2020.
Coinbase calls its answer to the special situation with Ethereum cbETH (Coinbase Wrapped Staked ETH) and explains the basic principle on Twitter. According to this, cbETH represents in a ratio of 1:1 the ETH that have been or will be deposited with Coinbase for staking. However, this coupling does not necessarily mean a 1:1 link between the price of cbETH and the price of Ethereum, as cbETH can be freely traded separately. Nevertheless, this is the advantage for users: with cbETH, they now have a cryptocurrency at hand that can be used and traded at will. So as a Coinbase customer, you no longer have to wait until staked Ethereum is also allowed to be officially withdrawn from the Beacon Chain again presumably in 2023, but can become active with cbETH now.
cbETH is scheduled to launch today, Thursday, on Coinbase. Initial data from CoinMarketCap, for example, indicates a price difference of about 5 percent to ETH. Wrapped ETH from Lido is also experiencing such a "discount," but stETH is trading closer to ETH. Both tokens have one thing in common: they are 100 percent backed by staked Ethereum, price fluctuations therefore naturally until the moment when the Beacon Chain releases its ETH staked there again.
Conclusion: cbETH for Coinbase customers an interesting advance
So far, there is no reliable information from Ethereum on when exactly staked ETH in the Beacon Chain will be convertible into "normal" ETH. 2023 seems possible, but is not confirmed, as Coinbase also notes in an info paper on cbETH. However, as with Lido, Coinbase is now creating a way to switch to wrapped staked Ethereum in the meantime. So cbETH is good news for Coinbase customers who want to cash out their staked ETH right now. Whether cbETH will also become attractive for DeFi – as stETH managed to do – remains to be seen.
---