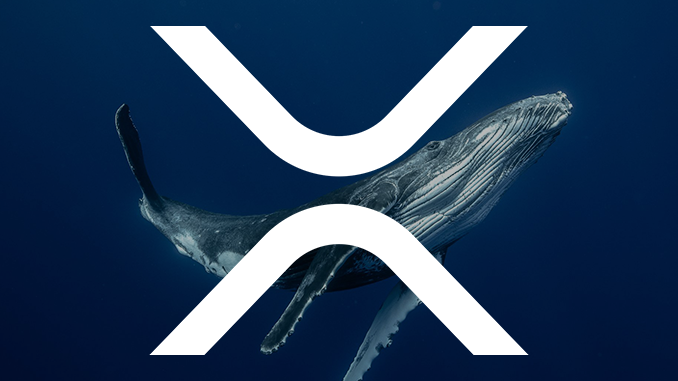 Large investors in Ripple (XRP) are apparently not deterred by the ongoing process of the U.S. Securities and Exchange Commission (SEC) and buy the controversial Altcoin after. Rising trading volume is also a positive sign.
There is currently little to be heard about the hard-fought duel between Ripple (XRP) and the US Securities and Exchange Commission (SEC). But XRP currently seems to come back into the sights of Whales, the data service Whale Alert reports via Twitter increased purchases of XRP in orders of magnitude of more than 10 million US dollars each. On yesterday's Tuesday alone, at least 73 million US dollars worth of XRP flowed into the wallets of large investors and the trend continues. Since midnight, for example, XRP purchases for at least 75 million U.S. dollars are already registered again at Whale Alerts.
However, these purchases hardly help the price curve of XRP, the altcoin is trading sideways at around 0.35 U.S. dollars and could not resist the general losses on the crypto market in August. However, analysts from Santiment have identified the NVT (Network Value to Transactions) indicator as a positive signal for XRP in a report. NVT measures the relationship between the market capitalization of a cryptocurrency and the daily volume of transactions. Here signals for a bull market are to be discovered with XRP, means Santiment and judges so short term chances for Ripple better than with Bitcoin (BTC) and Ethereum (ETH).
However, experts agree that the medium- and long-term fate of Ripple and XRP will be decided by the dispute with the SEC. The Securities and Exchange Commission wants to prove that XRP is to be considered a security (securities) and that Ripple therefore illegally brought its cryptocurrency to the market in 2013/4. Ripple, on the other hand, is convinced that XRP does not fall under the supervision of the SEC and, like Bitcoin and Ethereum, is independent as a decentralized cryptocurrency.
Conclusion: XRP with positive signs – but future remains uncertain
Process observers have counted a few stage victories for Ripple in 2022, with the now-famous "Hinman speech" counting for a central role. Some XRP advocates continue to believe an out-of-court settlement between the SEC and Ripple is possible to bring the burdensome process to a close. Whether Whales' current buying is aimed at short-term gains or is banking on Ripple and XRP taking off after a positive conclusion to the case is hard to gauge. Thus, XRP remains a shaky candidate among the ten most capitalized cryptocurrencies in the world.
---