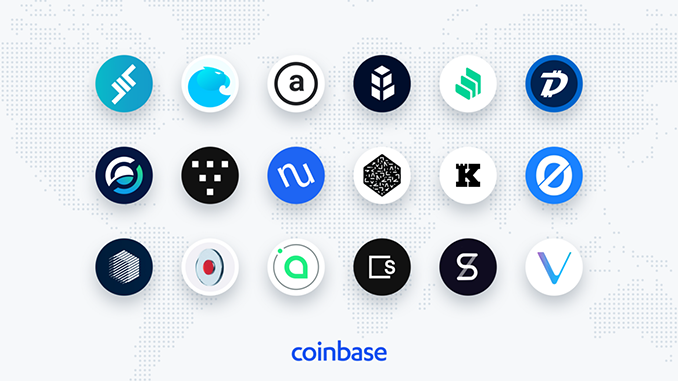 The crypto stock exchange Coinbase would like to extend its portfolio and therefore checks 18 crypto currencies whether they are suitable for a listing. VET is probably the most prominent candidate.
Nearly 30 different crypto currencies can already be traded on the crypto exchange Coinbase and this list should become longer. In a blog post Coinbase calls now 18 crypto currencies, which one takes at present internally more exactly under the magnifying glass. If they pass the test stand, nothing more should stand to their listing in the way, it is called. As a general goal Coinbase repeats to seize in the future by the crypto currencies tradable there so many that they illustrate 90 per cent of the market capitalization of the total market. In concrete terms, Coinbase is currently looking at the following candidates:
Aave (LEND): focuses on lending transactions with crypto currencies
Aragon (ANT): is designed as a coin for communities
Arweave (AR): wants to debut as a document store in the block chain
Bancor (BNT): serves as a token for the exchange of crypto currencies
COMP (COMP): helps to organize other crypto currencies
DigiByte (DGB): Open source block chain with focus on security
Horizen (ZEN): User-friendly communication and payment processes
Livepeer (LPT): Peer-to-peer video
NuCypher (NU): plans cryptographic network for DApps
Numeraire (NMR): serves as a token for stock market forecasts
Keep Network (KEEP): Interface between private data and block chains
Origin Protocol (OGN): coin and platform for e-commerce
Ren (REN): Bridge currency for fast exchange of crypto currencies
Render Token (RNDR): allows you to rent or lease rendering capacities
Siacoin (SC): Cloud storage with the block chain
Skale Network (SKALE): aims to become a scalable tool for DApps
Synthetix (SNX): exchange tokens for other crypto currencies
VeChain (VET): Toolchain and token for unique ID codes
The overview shows that Coinbase has chosen a colourful mix of crypto currencies for the verification process. With VET there is an example for a quite well established crypto currency, with coins like Arweave and NuCypher there are still projects in development and crypto currencies like Numeraire or Bancor occupy the future market DeFi.
Coinbase does not give any information about when the first of the 18 candidates will be listed. It is emphasized that the information now being disseminated is also no guarantee for an actual listing. Last autumn, Coinbase published a list of 17 projects that might be listed. In practice only a few of them made it, but almost all of them were still in the development phase.
Conclusion: Coinbase wants to broaden its offer
In the USA, the home market of Coinbase, the "Coinbase effect" is often mentioned. This means that a crypto currency can expect price increases if it becomes known to a wide audience of investors through the listing on Coinbase. Coinbase has recognized that it would like to offer its customers not only Bitcoin and established Altcoins but also younger projects which may offer great chances of profit. It remains to be seen when the next round of expansion at Coinbase will come.