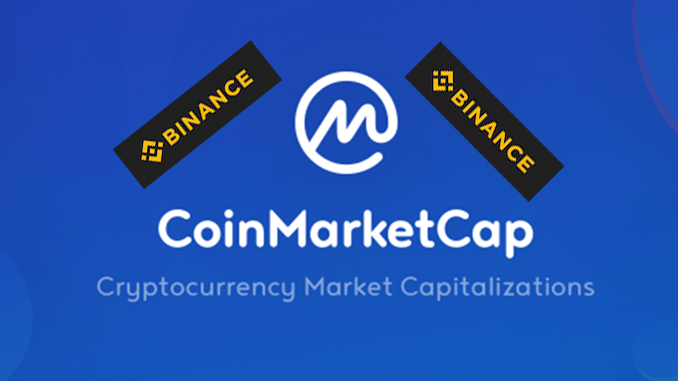 CoinMarketCap, as the leading data platform in the crypto industry, has changed the criteria according to which top lists are maintained. Binance now holds the top position in the crypto sector. Binance took over CoinMarketCap on April 2.
CoinMarketCap is one of the most important sources of information for investors in Bitcoin and Co. Among other things, the platform provides up-to-date data on current price developments and crypto exchanges, which many use as a basis for their investment strategies. CoinMarketCap has earned its reputation by being neutral and incorruptible. At the beginning of April, the crypto exchange Binance announced that it had taken over CoinMarketCap. Now CoinMarketCap announced in a blog post that it would be making significant changes to the valuation standards used to assess crypto exchanges. As a result, Binance is now the number one crypto exchange at CoinMarketCap and there is a bad suspicion that this is the case: Has the new owner exerted influence in order to stand in a better light?
What will change at CoinMarketCap?
The default criterion for the ranking of the crypto exchanges at CoinMarketCap is now the web traffic. There, Binance is given the highest value of 1,000 and leaves the second placed Coinbase Pro with 972 clearly behind. CoinMarketCap argues that the measured web traffic is the most reliable indicator of the popularity and turnover of a crypto exchange.
Already a few days ago CoinMarktCap changed the factor liquidity. It is supposed to show how good the chances are to buy and sell crypto currencies in real time at real prices. There Binance now receives 399 out of 1,000 possible points and Coinbase Pro 403. CoinMarketCap says that "normal" orders in the range of up to USD 10,000 are now taken into account more in terms of liquidity than giant orders of around 50 Bitcoin (BTC). Conspicuous: BitMEX is valued at 0 here, a clear sign of fake turnover on a large scale.
This is because in the daily turnover section, BitMEX shows almost USD 2.5 billion of CoinMarketCap. Here Binance scores again with a good USD 5.6 billion and Coinbase Pro weakens astonishingly with USD 311 million. So far, CoinMarketCap has given two values for daily turnover, one the value reported by the crypto exchanges and the other an "adjusted" value to filter out suspicious turnover (keyword: washtrading). This second, adjusted value for daily turnover is no longer applicable to CoinMarketCaps, but a new approach has been announced for the end of May.
Binance benefits from the new system at CoinMarketCap
Users of CoinMarketCap still have the possibility to create the ranking lists according to their individual preferred criteria. But it is strange that at the beginning of April, Binance still ranked in the midfield of the listed crypto exchanges in CoinMarketCap, the reason for this was considerable doubt about the reported daily turnover. CoinMarketCap now made it clear that in the case of Binance, Wash Trading was not used as a starting point, but that turnover in trading with derivatives such as Bitcoin Futures was excluded.
However, a second indication also casts doubt on the fact that CoinMarketCap – as actually promised by Binance – is acting independently. Binance CEO Changpeng Zhao asked on Twitter on 22 April how CoinMarketCap should be improved and celebrated the changes on Twitter. A spokesperson for CoinMarketCap, on the other hand, assured that Binance had no influence on the changes and that they had only used CZ's Twitter account with its enormous reach to gather ideas.
https://twitter.com/cz_binance/status/1261165444037087232
Conclusion: Inconsistencies at CoinMarketCap raise doubts
A good placement at CoinMarketCap tends to be worth money for a crypto exchange, because it indirectly advertises. Investors think: Number one is probably the best provider, so I act there. This in turn increases turnover and brings in trading fees. In contrast to other sources, CoinMarketCap does not present sponsored results in a particularly prominent way, so these sought-after places are not for sale. And so it should be noted: The actual figures from CoinMarketCap can probably still be trusted, but the details of the readjustment for daily turnover at the end of May are of particular importance.
Binance sees its entry into CoinMarketCap as an investment that should generate returns. CZ estimates the value of CoinMarketCap to be at least ten times the reported purchase price of USD 400 million. But for CoinMarketCap to continue to be the first port of call for data-hungry investors, independence must be guaranteed. This clean slate has gotten a few minor stains at the moment.
---
Best place to buy Bitcoin: