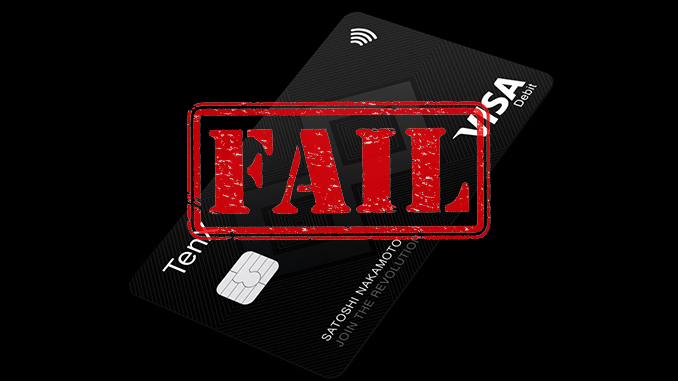 The FinTech company TenX, known for its crypto-card, is experiencing a great deal of unrest. According to information from insiders, many employees have been laid off and CEO Toby Hoenisch is said to have resigned.
At the beginning of March, TenX thought it would be back on the road to success with the launch of its crypto credit card in Germany and Austria. But expectations have obviously not been fulfilled, because in the forum on current issues at TenX the news of massive layoffs is making the rounds. In addition, CEO and co-founder Toby Hoenisch is to retire. So far, TenX has been urging the community to make an official statement soon with their urgent questions about the future of the company. What will happen with the TenX Pay Token also remains unclear. There are calls for compensation for early investors, for example.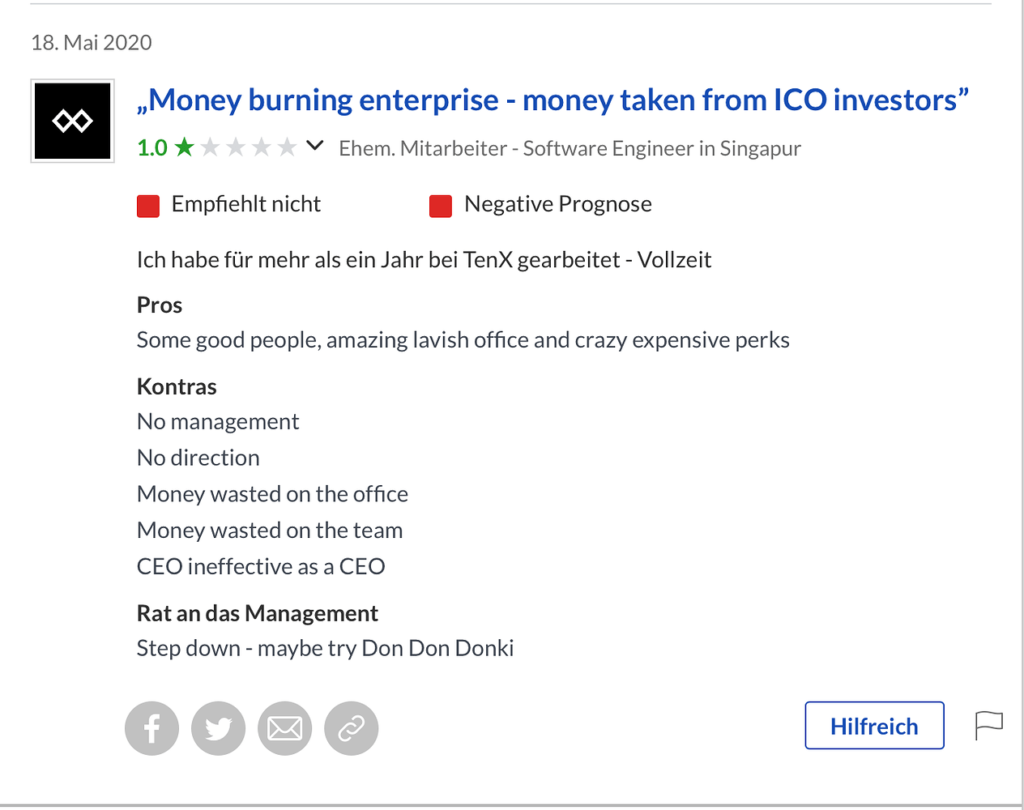 Background on TenX
TenX was founded in 2015, at that time still under the name Onebit. In 2016, the company received support from PayPal and changed its name to TenX as an allusion to the expected growth of the crypto market. From the very beginning, TenX's focus was to become a kind of crypto-bank. Instead of converting coins to Fiat like other providers when using Bitcoin and Co. in everyday life, TenX actually makes it possible to pay directly with BTC, Ethereum (ETH) and Litecoin (LTC) if the business partner accepts the crypto currency. But the matching credit card, initially expected to be issued in 2017, was only sent out briefly and in small quantities. TenX cites problems between a service provider and Visa as the reason why the project has stalled. It then took until 2019/20 before the long-awaited TenX credit card was available – and still only in a few countries.
In 2017, TenX launched its own crypto currency called PAY and was able to collect 80 million US dollars from the ICO. PAY was advertised by participating in sales via the credit cards. Here, too, they had to row back in 2018 and began exchanging PAY for TenX tokens. When co-founder Julian Hosp was expelled in January 2019, it became clear just how tangled the corporate network around TenX is. But the community assumes that a large part of the 80 million US dollars is still available. Before it seeps into any channels, TenX should rather compensate investors and withdraw from the market in an orderly fashion, is a typical demand.
Conclusion: TenX lacks transparency in the crisis
Whether TenX will be able to get back on its feet with staff cuts and attract new customers in large numbers in its core business of credit cards is completely open. Users report problems with the TenX app and some are already withdrawing their credit in BTC, ETH and LTC.
In such a situation, clear communication from the TenX management team would be a matter of course. But officially, the forum has been saying for days: If there is something new, the community will be the first to know. There is also radio silence on the social network sites regarding the news. No denial, no clarification, no nothing – neither from TenX nor from (CEO?) Toby Hoenisch. Such dealings with customers and investors are unprofessional, and TenX should therefore not be surprised if, after the quarrels about Julian Hosp, even the last bit of trust in the once so hopeful start-up is lost.
---
Best place to buy Bitcoin: