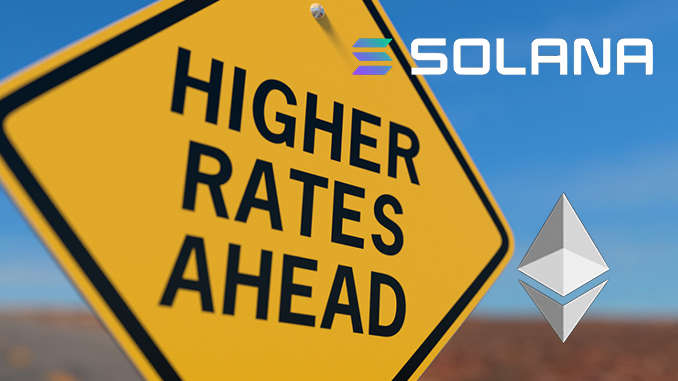 January came at the beginning of 2022 with red numbers for the crypto market. As of February, there are signs of a recovery, with Solana (SOL) and Ethereum (ETH) benefiting the most.
Investors in Bitcoin and Co. have seen little good news since New Year's Day, with the top 20 most capitalized cryptocurrencies consistently suffering price losses at levels of 20 percent or more. But at least the first few days of trading in February show a tendency for the markets to regain their footing. Bitcoin, as the lead currency, posted a gain of nearly 4 percent. Ethereum (ETH) and Solana (SOL) scored even more significantly, turning positive by 12 and 14 percent, respectively. Analysts put the development in relation to the stock markets and U.S. monetary policy.
That's because U.S. equity markets also performed as poorly in January 2022 as they last did in 2009, when the global financial crisis dominated sentiment, notes the Financial Times, for example. The S&P 500 Index, for example, fell 5.3 percent in January and only managed to return to positive territory in the last few days. In the world political situation, it is concerns about a war in Ukraine and high energy prices that are weighing on sentiment. Leading cryptocurrencies can rarely decouple themselves from such trends on the stock markets.
Signals from the U.S. Federal Reserve, meanwhile, are announcing an increase in key interest rates to recapture unintentionally high inflation. Such rate hikes could move capital from the equity and crypto markets, as other investment opportunities would then present themselves again. On the other hand, JPMorgan, for instance, measures 78 percent among its clients currently planning to increase their investments in equities in the coming days and weeks. Here, current prices plus momentum are obviously still seen as a starting point for doing better with investments in equity markets than through fixed-income financial products.
If you take these assumptions for the crypto market, you will notice: compared to the beginning of the year, Bitcoin is still down almost 18 percent, Ethereum is down almost 25 percent and Solana is even down around 40 percent. SOL was not only burdened by the market environment in January, but also by a network shutdown. If the prices of late January signify an end to the trough, now could be the appropriate time to add back to investments.
Conclusion: Can Bitcoin and Co. turn sustainably positive again?
With strong phrases such as "bloodbath" and "brutal disillusionment", many analysts describe what January has brought for the leading cryptocurrencies. Hope is drawn from the fact that this could mean that the worst is over and that the stock markets are also recovering. As trends there often increasingly filter through to attractive crypto stocks such as Ethereum or Solana, the coming months could bring good profit opportunities. Remains to be considered: Problems such as a possible war in Ukraine, inflation and energy prices have by no means been cleared up yet. This also indicates that the recent price recoveries are still a tender plant for the time being.
---
Best place to buy Bitcoin: