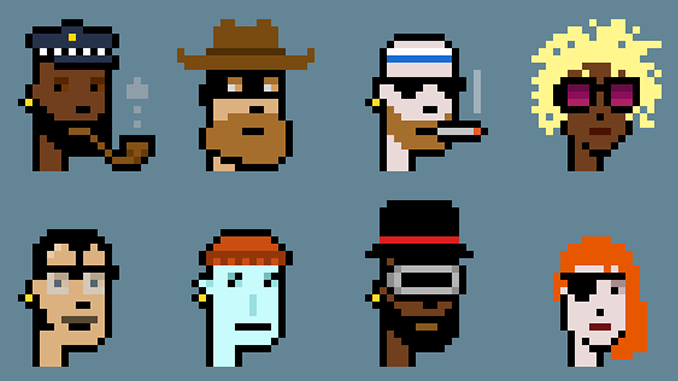 There's a surprising deal in the high-priced NFT space: the creators of CryptoPunks, Larva Labs, have sold intellectual property rights to Yuga Labs, which is behind Bored Ape Yacht Club.
CryptoPunks has made it to fame and often staggering resale prices as one of the oldest NFT projects from the creative scene. Prices of $200,000 and more for one of the 10,000 CryptoPunks already generated as NFT in 2017 have become the norm. Buyers now also have to budget more than US$200,000 for one of the 10,000 comic monkeys in the NFT project Bored Ape Yacht Club, even though they only saw their launch just over a year ago. Celebrities afford a CryptoPunk or Bored Ape, as do companies, including Visa. It now seems to be en vogue to express wealth and a modern understanding of art or attitude to life on Twitter, for example, with one of the coveted NFTs as a profile picture. Now, one can certainly scoff at this development – but CryptoPunks and Bored Ape Yacht Club turn over millions every month and have found their own markets.
Under these circumstances, the sober-looking press release from Yuga Labs about a deal with Larva Labs, which has caused some astonishment in the NFT scene, can be understood. Larva Labs is the creative office responsible for CryptoPunks, and Yuga Labs is responsible for Bored Ape Yacht Club. For an undisclosed sum, Yuga Labs has now purchased the "Intellectual Property" (IP, Intellectual Property) to CryptoPunks and MeeBits from Larva Labs. Part of the deal is also 423 CryptoPunks themselves, so at least double-digit million sums must have flowed. But what else is behind the surprising acquisition?
Commercial rights to CryptoPunks now with individual owners
As a first concrete step, Yuga Labs announced via Twitter that it would transfer the complete commercial rights to the respective NFT to all owners of CryptoPunks. There had been repeated disputes between Larva Labs and the owners of CryptoPunks. This was manifested, for example, in anger over ambiguities as to whether copies of an NFT could be made and marketed. Larva Labs' defense of copyrights to CryptoPunks in general was also not always convincing. In short, the CryptoPunks brand was not maintained by Larva Labs in the way many investors wanted.
This is now where Larva Labs' statement on the contract with Yura Labs aka Bored Ape Yacht Club comes in. Yura Labs has proven to raise creative NFT projects commercially to new levels. They themselves see their strengths in creatively exploiting new technological opportunities early on. Therefore, Larva Labs is sure that the CryptoPunks brand will be better off with Yuga Labs in the future. Around Bored Ape Yacht Club's NFTs, Yuga Labs has created exclusive lifestyles that include concerts with pop stars as well as merchandising and blockchain gaming. Now Yura Labs apparently wants to wait and see what the owners of CryptoPunks come up with themselves with the new rights package. Whether further centralized commercialization of CryptoPunks could then follow remains open for the time being.
Conclusion: CryptoPunks and Bored Ape Yacht Club are pushing each other
The cool CryptoPunks are as pioneers in the young NFT scene quasi "old school" and prove this with sales through renowned auction houses like Christie's . Bored Ape Yacht Club with its blasé monkeys has found innovative ways to market the lifestyle of young crypto millionaires. The merging of the two highly successful projects under the Yura Labs umbrella has been universally welcomed by owners of NFTs. They hope for sustainable and financially rewarding synergy effects.
---
Best place to buy Bitcoin: