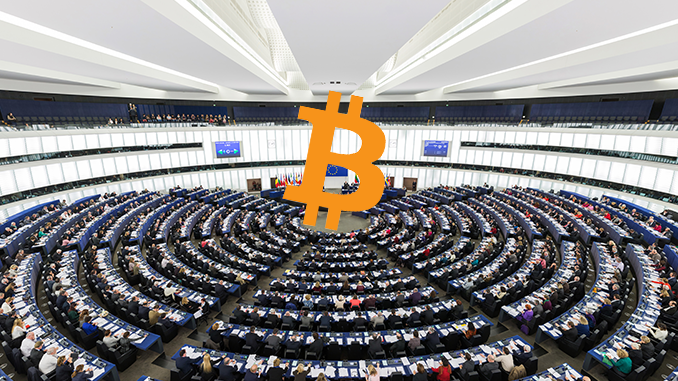 The EU Parliament has passed a comprehensive package of specifications for the crypto industry with a large majority. MiCA (Markets in Crypto-Assets) had been tweaked since 2020. The result has pioneering character.
In the fall of 2020, the European Commission went public with its first comprehensive proposal for regulating the crypto sector, and two and a half years later, MiCA (Markets in Crypto-Assets) is a done deal. With a huge majority (517 votes in favor, 38 against, 18 abstentions), the EU Parliament voted in favor of MiCA yesterday (Thursday). EU Finance Commissioner Mairead McGuinness hailed the result as "world-leading" via Twitter. The German trade association Bitkom also praised MiCA in a press release as a "pioneer" with which Europe is setting "a global standard for crypto regulation."
Representatives of the crypto industry such as Changpeng Zhao , CEO of the world's largest crypto exchange Binance, also expressed their satisfaction. On Twitter, CZ spoke of a "pragmatic solution" and also noted that with MiCA, the EU, as one of the largest global economies, gets a legal framework tailored to crypto assets. Coinbase's rival, via Twitter, calls MiCA a "defining moment for crypto regulation" and expects positive momentum.
The great approval of MiCA is also due to the fact that feared overregulation failed to materialize. Proposals discussed in the meantime, such as a registration requirement for hardware wallets or too small allowances for anonymous transactions, are no longer reflected in the final package of measures. MiCA is expected to come into force this summer and the EU member states will then have up to 18 months for national implementation. In principle, crypto companies such as Binance will be allowed to operate throughout the Union with a license from an EU state. Further important key points of MiCA:
– At the launch of new cryptocurrencies, a whitepaper with basic information must be submitted.
– Issuers of stablecoins must prove that their digital currencies are backed by reserves.
– Crypto exchanges and related financial service providers must keep private customer data and document transactions without gaps. Reporting is mandatory if money laundering or other illegal activities are suspected.
– Large crypto companies must record their carbon footprint. This is in response to the discussion on Bitcoin (BTC) energy consumption.
Experts note that MiCA does not yet provide guidance on dealing with issues such as staking, NFTs, the Decentralized Finance Division (DeFi) or crypto lending. Improvements are likely to be made here in the coming years.
Conclusion: EU pushes ahead of U.S. in crypto regulation with MiCA
The international crypto scene has been watching for months as the U.S. attempts to regulate Bitcoin and Co. through the Securities and Exchange Commission (SEC), but a largely absent legal framework causes anger and frustration. U.S. companies like Coinbase are already moving business units abroad as a result, criticizing the situation as a "stumbling block to innovation." Against this background, it is easy to understand why MiCA is receiving praise from almost all sides. After all, the package of regulations will allow the crypto industry to get out of legal gray areas in the EU and also strengthen confidence among investors. The U.S. crypto industry is eagerly awaiting such regulation with a sense of proportion.
---