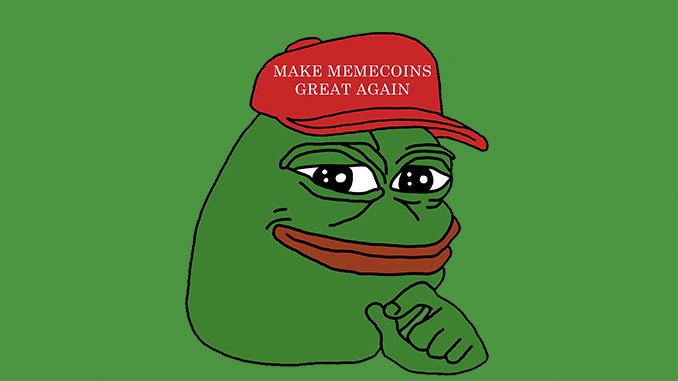 The US comic character "Pepe the Explorer" has been given his own cryptocurrency called PEPE. The meme coin aims to outpace competitors such as Dogecoin (DOGE). PEPE's stock market launch was positive.
News from the sometimes confusing world of meme coins: PEPE has been traded on crypto exchanges since the beginning of the week and is currently up a whopping 300 percent compared to initial price levels. The data service CoinGecko calculates a current market capitalization of around 100 million US dollars for PEPE, which immediately puts the self-professed meme coin in the top 300 of the most important cryptocurrencies. So let's take a look at what PEPE is promoting in its self-promotion to find fans and investors.
PEPE's relationship to the cartoon character "Pepe the Explorer" is denied, but instead the eye-catching frog symbol is said to be a "tribute to a meme we all love and respect." Wikipedia knows that "Pepe the Frog" is a popular meme among far-right groups in the U.S. and in Germany among the "identitarian movement ". The motto "Make Meme-Coins Great again" listed on PEPE's web presence is a variation of Donald Trump's slogan "Make America Great again". So perhaps the new cryptocurrency is not as harmless as PEPE pretends to be, if it has been targeting reactionary groups from the start.
On the other hand, the fact that PEPE claims to end the era of meme coins with dogs as symbols speaks for humor. Whether Dogecoin (DOGE) or Shiba Inu (SHIB), whether FLOKI or BONK – PEPE thinks that the dog years have to end now and that only the green frog can become the legitimate successor. However, in a footnote PEPE also writes that they only want to serve entertainment purposes and the coin itself has no value. The launch of PEPE was organized anonymously, 93 percent of all tokens came into a liquidity pool and 7 percent are reserved for future tasks such as listing on leading crypto exchanges. So at least PEPE's token distribution is fair.
On Twitter, the example of an early investor who initially put in $251 that would now theoretically be worth more than $1 million in PEPE is causing amazement. Such success stories also led the hype around Dogecoin in 2021 and DOGE has been considered the father of the meme coin genre at the latest since then. However, even Dogecoin can hardly show any serious use cases so far, and DOGE's push into the top ten of the most capitalized cryptocurrencies has caused a lot of head-scratching.
Conclusion: frog PEPE as a meme coin – disappointment inevitable?
According to blockchain data, PEPE has already found a good 30,000 investors and thus exceeded initial milestones. From experience, it is crucial for meme coins to quickly build up a large fan base and expand from there. PEPE seems to have succeeded in following this example – even if the target group it addresses involves political aspects that not everyone likes. As an investor, you should also keep in mind that many meme coins, such as BONK, got off to a rocket start, but their price curves were quickly trimmed again afterwards. Anyone who now invests in PEPE is getting involved in an investment with a speculative character in the foreground.
---
PEPE is not yet traded on almost any crypto exchange. If you want to buy the coin, you have to do it on MEXC.