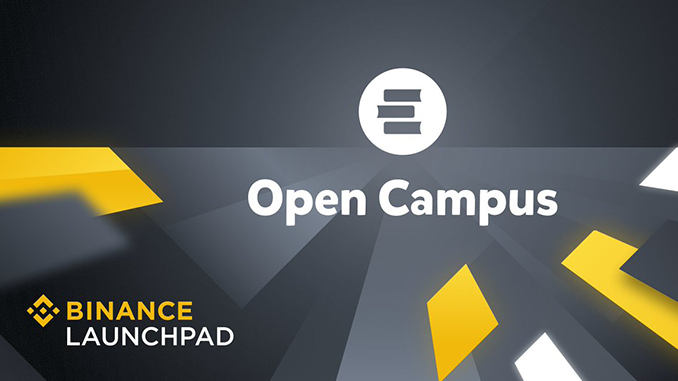 Binance Launchpad is launching Open Campus (EDU), a new cryptocurrency that aims to occupy the education market on Web3. From experience, it is worthwhile to take notice of such IEOs at Binance.
Binance Launchpad is currently hosting its 31st IEO, with Open Campus (EDU) taking center stage. The format established by Binance to present new cryptocurrencies for the first time for free public sale via IEO has already produced high-flyers like Polygon (MATIC) and Sandbox (SAND) in the past. Based on these experiences, we recommend participating in the IEOs of Binance Launchpad and we explain here how it works and how you can get to Open Campus (EDU) as early as possible:
1. Currently, the so-called preparation phase for the OpenCampus (EDU) IEO is already running. Binance keeps an hourly record of how many Binance Coin (BNB) you hold in your customer account. This period ends on the night of April 28th (Friday) and based on the results, how many OpenCampus (EDU) you can claim individually.
2. Then on Friday from 8:00 to 11:00 German time is the moment to make a binding commitment to buy Open Campus at Binance Launchpad. One EDU will cost 0.05 US dollars, settled in BNB. Starting at 12:00 p.m. German time on April 28, the tokens will be delivered and shortly thereafter Binance will open trading for Open Campus.
3. the IEOs at Binance Launchpad are consistently oversubscribed many times over and the demand for the cryptocurrencies presented there is huge. This has historically created the momentum for token price curves to shoot upwards, such as Open Campus (EDU) now, when it is first listed. This is the moment when profit taking can be easily realized for you with good timing.
Open Campus is bringing the education sector to the crypto industry and already has a number of popular collaborative partners with providers like Tiny Tap, Oxford University Press, and Sesame Street. The idea is that Open Campus will have educational programs of all kinds available for purchase and paid for in EDU. Open Campus' native cryptocurrency further serves as a ballot in self-governance (governance token). Exclusive content at Open Campus could also be traded as NFTs based on EDU, he added. The project estimates the annual volume in the private online education market at at least 5 trillion US dollars and expects Open Education to be able to noticeably occupy market share here. Its partner Tiny Tap, for example, is already one of the most popular apps for children's education and has more than 9 million families as customers. In the future, they will also book their courses via Open Campus and pay in EDU.
Bottom line: don't sleep through Open Campus' (EDU) Friday morning IEO.
Binance Launchpad has 50 million EDUs available for Open Campus' IEO, which is 5 percent of its total holdings and should bring $2.5 million into the project's coffers. In a private sale of EDU in 2022, 6 percent of all tokens raised $6 million, so the current sale price is set exceedingly fairly. Taking the lucrative private education market towards Web3 via crypto seems a promising concept. We therefore think: Mark Friday morning with red in your calendar and don't miss Open Campus (EDU) at Binance Launchpad.
---