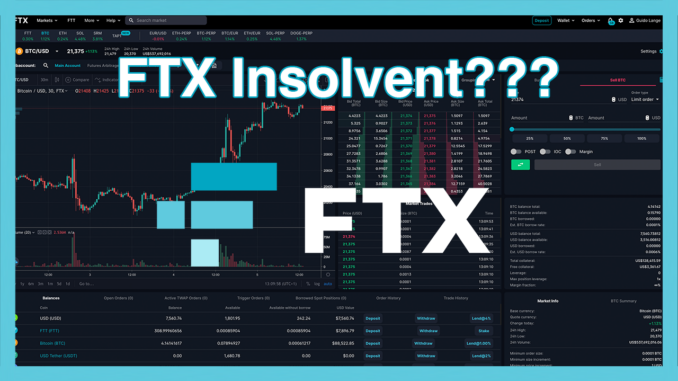 FTX Token (FTT) has plunged 30 percent since yesterday. The background is a mixture of signs and rumors about whether the crypto exchange and the closely related Alameda Research are still liquid.
The crypto exchange FTX, which is used to success, has a problem: Its own discount token FTT has to cope with around 30 percent minus in the last 24 hours. There is a hot debate in the crypto scene whether FTX and its associated Alameda Research are heading for liquidity problems. Sam Bankman-Fried (SBF), who founded FTX and Alameda Research, is so far unsuccessfully trying to calm the mood. Also in the spotlight is Changpeng Zhao (CZ), head of the world's largest crypto exchange Binance, who pulled massive FTT deposits from FTX, citing "risk management" as the reason. Is this really a huge bust in the making or are market participants exaggerating with their reactions?
The fact is: Last week, the US specialist portal Coindesk unveiled a document on the reserves of Alameda Research. Immediately, it stood out that the crypto company focuses its reserves on FTX Tokens (FTT) – while Alameda Research is also the publisher of FTT on behalf of FTX. Alameda Research apparently also counts FTT tokens on its balance sheet that have not even entered circulation yet. Other reserves focus on Solana (SOL), a cryptocurrency that SFB supports intensively. Thus, looking at Alameda Research, those who calculate critically arrive at a good 14 billion U.S. dollars in assets, but far more than 50 percent of these are invested in FTT and SOL, and thus the liquidity can be doubted.
Doubts about the stability of the construct were then fueled over the weekend when FTX had to limit disbursements and increases. The reason given was banks that would not be working over the weekend, as well as limited capacity on Bitcoin's (BTC) network. Bursting into the tense situation was news from CZ that Binance was selling its holdings in FTX tokens worth about $580 million. Binance was a strategic investor in FTX from 2019, but cashed out in the summer of 2021.
After Terra, does the crypto industry face another crash in 2022?
CZ now recalled the Terra (LUNA) crash in May and wrote on Twitter that Binance was divesting from FTX tokens due to "risk management." For FTX, Sam Bankman-Fried fired back via Twitter, writing that a competitor was trying to hurt FTX with "rotten rumors." FTX operates strictly according to legal regulations and never invests customer funds. In short, SFB swears FTX has no liquidity problems. For Alameda Research, CEO Caroline Ellison flanked Binance by offering to buy back the FTT in question at a fixed price of $22.
But currently FTX tokens are trading at around 16 US dollars and the price curve has not (yet) settled down. Meanwhile, a thread by crypto analyst Miles Deutscher is getting a lot of attention. He explains that Sam Bankman-Fried, long hailed as the "crypto king," has become bogged down in political involvement and in the process is also alienating parts of the crypto industry. In addition, chief executives at both FTX and Alameda Research stepped down in recent months, something Deutscher now recalls. With the figures on FTX and Alameda Research in mind, Deutscher says that the risk of insolvencies is small – but investors could just switch to alternatives.
Conclusion: FTX under pressure, nervousness hits Bitcoin and Co.
The empire of SBF, consisting of FTX and Alameda Research, has become the talk of the town and the psychology of the markets seems to have already spread to the price curves of Bitcoin and Co. as well. The thesis that this dynamic is supported by a dispute between crypto billionaires Sam Bankman-Fried and Changpeng Zhao cannot be completely dismissed. It is now up to FTX and SBF to calm the situation by doing "business as usual." FTT's price curve is a key indicator of whether it is merely an unfortunate confluence of news that is causing FTX tokens to crash or whether a fundamental funding shortfall is actually occurring.
---