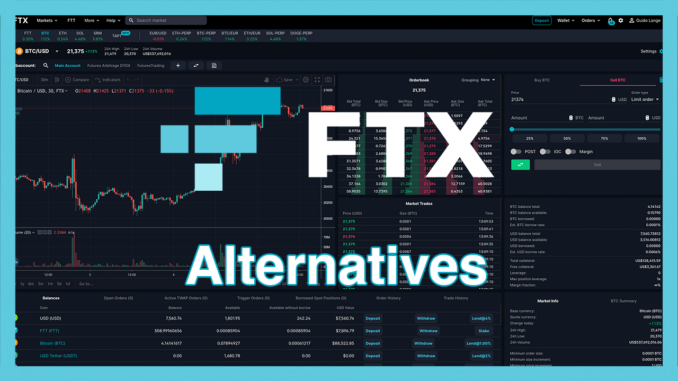 The crypto exchange FTX has run into financial trouble and not only its image has been severely damaged. Those who want or need to switch now will get tips on recommendable alternatives from us here.
Due to a deep liquidity crisis, crypto exchange FTX has (temporarily) stopped payouts this week and is now hoping that the announced takeover by competitor Binance will prove to be a lifesaver. But trust in FTX has been severely damaged in any case, and customers are rightly looking around for alternatives. From our experience, there are two providers that are particularly recommended for investors residing in Germany. Here you will find pluses and minuses regarding Binance and Bybit.
Alternative 1 Binance:
The world's largest crypto exchange Binance is also very popular in Germany, a license has been applied for at the Federal Financial Supervisory Authority (BaFin) and offices in Berlin and Frankfurt am Main organize the local business. Thus, you can easily make deposits and withdrawals at Binance, even in euros.
The fact that Binance offers a comprehensive portfolio with more than 200 altcoins in addition to Bitcoin (BTC) speaks for Binance as a replacement for FTX. The high liquidity of the market leader Binance ensures fair pricing, and Binance's fees are very low compared to the industry average. Binance also offers additional services such as staking.
Two details are negative about Binance: no customers are accepted without identity verification (KYC), so if you want to trade anonymously, you will have to switch to the FTX alternative ByBit. This is also true if Bitcoin futures and other derivatives are part of your investment strategy. This is because trading in crypto futures is no longer offered by Binance for customers with a German address.
Alternative 2 Bybit:
Bybit has also become known in Germany through a cooperation with the BVB soccer club. In terms of turnover, Bybit is one of the five largest crypto exchanges in the world. As long as you do not want to deposit or withdraw in euros at Bybit, but limit yourself to Bitcoin and Co, no identity check (KYC) is necessary.
As with Binance, you also get the opportunity to trade with very many different altcoins at Bybit, well-known and important cryptocurrencies are almost completely represented in the portfolio. The high trading volumes at Bybit ensure fair pricing, and the fees are also set in a customer-friendly way. And at Bybit, you can even implement your investment strategies with Bitcoin futures and other derivatives if you are a resident of Germany – otherwise FTX was often the first port of call for this segment in this country.
The disadvantages of Bybit remain manageable. The sheer size of Bybit does not come close to Binance, especially with smaller cryptocurrencies you have to pay attention to whether there is enough volume available. In addition, we find the operation of the platform not optimally solved, beginners should take their time to get used to Bybit's special features.
Conclusion: FTX switchers are in good hands with Binance and/or Bybit
Whether FTX succeeds in rebuilding trust after the current turbulences that threaten its existence will have to be seen in the coming weeks and months. To be on the safe side, it is recommended for you as an investor to use another crypto exchange, at least for the time being. If anonymous trading and trading with Bitcoin futures and co. are important to you, your choice will probably fall on Bybit. If you are looking for a crypto exchange that lists as many altcoins as possible, achieves the highest turnover and offers extensive additional services, Binance is the natural choice.
---