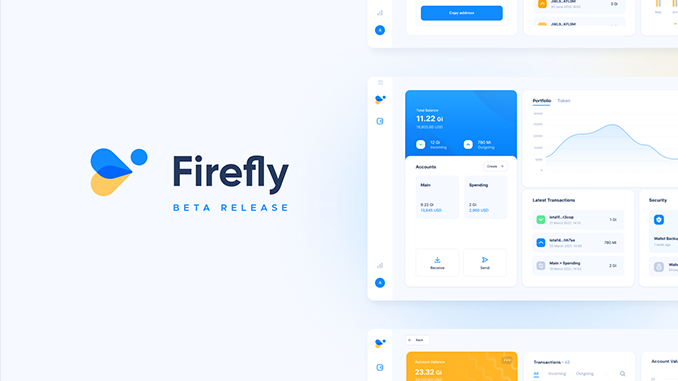 Firefly, as the official wallet slated for IOTA 1.5, is now available for download in a beta version. Firefly is expected to become the hub in the upcoming IOTA ecosystem for users.
The upgrade to IOTA 1.5 aka Chrysalis casts its shadow ahead: With the official Firefly Wallet as a beta version in the testnet of Chrysalis, it is now already possible to take a look at how IOTA will feel in everyday life from April 28, writes the IOTA Foundation in a blog post. It is explicitly stated that Firefly Beta is not intended for the migration process of IOTA tokens starting on April 21. Firefly will replace the previous official IOTA wallet Trinity, which has been in use since July 2019.
Features of Firefly for IOTA
With Firefly, IOTA is making a leap forward, which should initially translate into long-desired reusable addresses, faster and reliable transactions, and a modern user experience. Dominik Schiener, the chairman of the IOTA Foundation, also presented Firefly on Twitter in a short video:
We are currently watching the transformation of #IOTA to a production-ready DLT solving real problems

With #Chrysalis being exactly 4 weeks away, I wanted to share with all of you the beauty of #Firefly and the amazing new experience all of you will get to enjoy very soon pic.twitter.com/2HLQvVp3Q5

— Dominik Schiener (@DomSchiener) March 21, 2021
Indeed, Firefly's design looks very tidy and the progress bar for transactions accommodates everyday tasks. It can also be seen that Firefly is already prepared for multi-users, i.e. logging in under different profiles will be possible. Why Dominik Schiener came up with "Dominator" as a user name is another story. With the price curve of IOTA and a constant overview of the account balance, Firefly is apparently also well suited for trading with IOTA.
Firefly Beta is currently available in desktop versions for Windows, Mac and Linux. The download can be initiated via Github here. App versions of Firefly for smartphones are being worked on. Not yet integrated in Firefly are functions such as contact list, chat and the management of colored token and Mana. These are to be added in stages.
IOTA says Firefly has already been extensively tested internally and by external security firms. In the coming weeks, there will also be time to iron out any previously undiscovered bugs. Trinity, as Firefly's predecessor, had necessitated an emergency stop of Tanglenet on IOTA for weeks due to a serious security vulnerability.
Conclusion: Firefly fuels anticipation for IOTA 1.5
With Chrysalis and Firefly, IOTA takes the important intermediate step towards the big goal of IOTA 2.0 at the end of April, in which the central coordinator is to be abolished, which contradicts the decentralized system of cryptocurrencies. Those who are already trying out Firefly now can request "play money" there and experience IOTA 1.5 in the testnet. Firefly will have to pass its first test in an alpha version from April 21, when the wallet is supposed to comfortably guide users through the migration process to IOTA 1.5. Hopefully, the promised connection of Firefly to the Ledger Nano X and Ledger Nano S hardware wallets will also be completed by then. The release of Firefly Beta gave a positive boost to the price of IOTA – bucking trends in the overall market, IOTA has since gained around 10 percent to reach a level not seen since June 2018 at $1.60.
---
Best place to buy Bitcoin and IOTA: