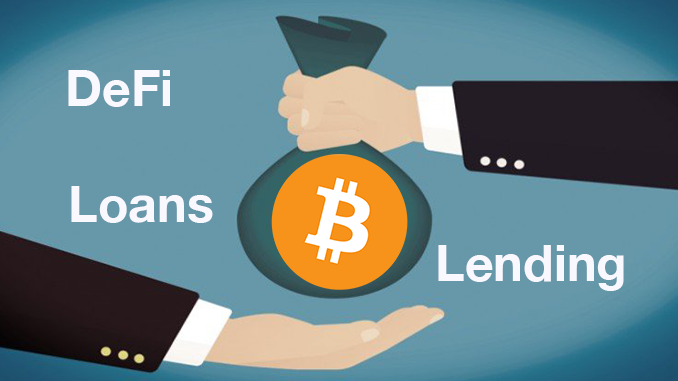 Business with crypto loans and interest-bearing deposits is growing rapidly. In the meantime, Bitcoin and Co. have already been used in this sector for the equivalent of more than 10 billion US dollars. An end to the boom is not in sight.
The respected business magazine Forbes is already euphorically reporting on "Bitcoin's first killer application", referring to a young branch of the crypto industry. FinTech companies like BlockFi grant loans that are secured by crypto. At the same time, they offer attractive interest rates on deposits in order to increase their volume. According to a recent market report by Credmark, the total volume of all crypto loans ever granted has now exceeded the equivalent of 10 billion US dollars and continues to grow at rates of 50 percent and more. The reasons for this are manifold.
Why crypto loans are booming
For Genesis Capital, one of the leading companies in the crypto-credit sector, a member of the management says: "The growth comes from the fact that there are few effective options for institutional investors and market participants to get involved in the crypto market. This is also the reason why we got into this business and why it continues to grow." Genesis Capital celebrates new records in a recent quarterly report.
Also at Celsius Network, a competitor, the reasons for the dynamic growth are the increasing demand for crypto loans from institutional investors. Nevertheless, CEO Alex Mashinsky sees Celsius Network initially as a "business for income through interest", because 90 percent of all customers first come into contact with the company through deposits.
Institutional customers in the industry often borrow crypto because it allows them to bet on price developments and price differences on various crypto exchanges. But customers also include mining pools, for example, in order to finance their ongoing business at low prices. Tax optimization is also a motivation for major customers to invest in Bitcoin and Co.
Important trends in crypto loans
Basically all suppliers report that their portfolios are no longer limited to Bitcoin (BTC) alone. Demand for Ethereum (ETH), Bitcoin Cash (BCH) and other leading Altcoins is increasing significantly from both depositors and borrowers. The same applies to stablecoins such as tether (USDT) or classic Fiat. The dominance of Bitcoin still amounted to 70 percent of the volume in 2019 and has now fallen to almost 50 percent. The industry for crypto-credits is thus becoming more and more diversified.
It is also worthwhile to take a look at the decentralised lending business. Here, the two sides conclude a contract directly, usually in the form of a Smart Contract. The central intermediary such as BlockFi is no longer necessary, DeFi is the order of the day. Protocols such as Maker and bZx implement this and according to Creditmark figures, about 10 percent of the market is gathered there.
How you as an investor can profit from crypto-credits
The impressive development of the crypto loans division makes it clear that this sector is emerging from its infancy and is also frequented by major customers. As a private investor, you are not really a borrower there. But you can lend your BTC, ETH and other Altcoins profitably to companies like BlockFi, which have already proven their reliability. Also recent offers like from Bitwala  and Coinbase show that it is getting easier and easier to let your crypto-credits work silently. With annual interest rates of 3 to 10 per cent – depending on the crypto currency – it is certainly worth considering collecting interest instead of storing credit balances in cold storage. How this works is explained in a special here. Not to be forgotten: Your coins change hands temporarily. There are risks if the provider of your choice is hacked or an error has crept into a DeFi protocol.
---
Best place to buy Bitcoin: