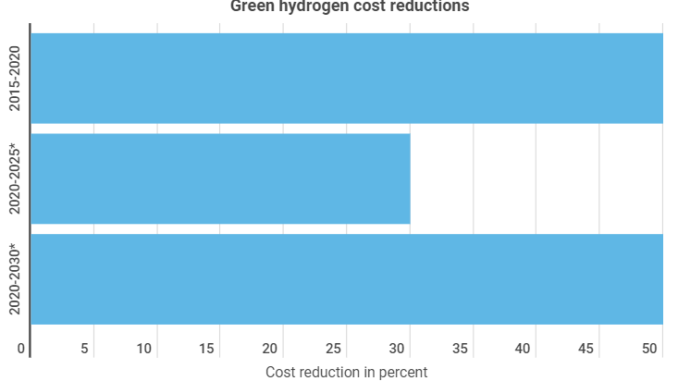 The question of whether hydrogen technology will be broadly taken up – especially for the mobility sector – is often controversial. As a new infographic from Block-Builders.net shows, a number of recent advances have recently made widespread adoption look ever more likely.
First Critical Factor: The Price
According to critics, hydrogen is held back by its comparatively high price. As you can see in the infographic, great progress has been made in this respect. The price of green hydrogen, for example, fell by 50% between 2015 and 2020, and is projected to fall by a further 30% by 2025 according to a survey by the Hydrogen Council.
A paradigm shift is also underway in terms of the purchase price for hydrogen-powered cars. The German Aerospace Centre (DLR) has recently developed a low-cost model which should be available for around €15,000. However, the market seems to be still a long way from reaching maturity. By way of comparison, the average purchase price of a new car in Germany is €33,580. The costs of conventional vehicles in Germany have been rising steadily since 2012, although one reason for this could well be the increasing popularity of more expensive vehicles such as SUVs.
Hydrogen Filling Stations For All?
Second Critical Factor: The Infrastructure
Another hurdle to widespread hydrogen adoption in mobility is the current level of infrastructure. There are 14,449 conventional filling stations in Germany, compared to 86 hydrogen filling stations. While Germany is the European leader in this respect, penetration is still comparatively low.
But a change could be imminent here too: If Andreas Züttel, Director of the Laboratory of Materials for Renewable Energy at EPFL in Lausanne, had his way, in the future everyone would have a hydrogen filling station in their basement. Commercial production could potentially begin as early as next summer.
Third Critical Factor: Applications
Hydrogen technology still leads a niche existence – at least in terms of empirical studies, if not in the media discourse. However, more and more companies are striving to change this. For instance, Airbus is committed to introducing a CO2-neutral hydrogen aircraft fleet to the market from 2035 onwards. In turn, car manufacturers Toyota are increasingly turning to H2 mobility, especially for the area of HGV logistics. If forecasts by market researchers from "Roland Berger" are correct, then the share of hydrogen vehicles in the overall passenger vehicle market could reach around 35% by 2050.
Boom For Hydrogen Shares
There are still a lot of 'woulds' and 'coulds'. While some see great potential for hydrogen technology, many are not convinced that it can keep up the momentum. The performance of selected hydrogen shares shows that the stock market at least appears to see potential: the price of Nel ASA shares rose by 131% in the year under review. ITM Power even gained 450%. H2 stocks have enjoyed growing popularity in the past, not least among neobrokers such as Trade Republic & Co.