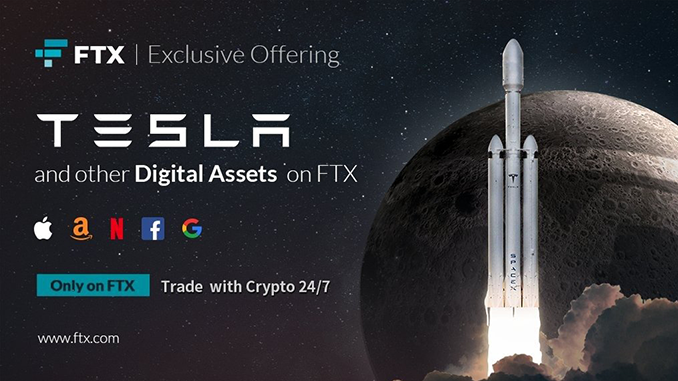 Starting next week FTX offers its customers to invest in selected stocks. At the start, the crypto stock exchange will list securities tokenized by Apple, Facebook, Google, Tesla and Amazon, for example. FTX realizes the offer in cooperation with partners from Germany and Switzerland.
FTX is continuing its development into a broad-based trading platform. Starting next week, around a dozen popular FTX shares will be included in trading, reports the financial news agency Bloomberg. In the offering, the securities are represented as tokens, which also makes it possible, for example, to buy and sell only parts of high-priced shares. For the realization of the new trading division, FTX is using the services of CM-Equity from Germany and Digital Assets AG (DAAG) from Switzerland.
Trading shares with FTX – how it works
FTX writes in its rules that an identity check (KYC) is required for trading in shares. In addition to the check at FTX, one at CM-Equity is also required, but the process should normally involve a waiting period of two days at most. FTX has not yet published a complete list of the shares that will be listed. Apple, Facebook, Netflix, Google (Alphabet), Amazon and Tesla are mentioned in advertising material. This initially indicates a focus on popular and high-volume stocks of US companies.
The CEO of FTX, Sam Bankman-Fried, sees the target group for tokenized stock trading within the crypto-scene, where many investors would avoid stock trading via classic beacons and financial service providers. FTX's offer, on the other hand, is tailor-made and scores points with markets open around the clock and low fees. According to the available information, customers from Germany and the EU are basically qualified for the new stock trading division at FTX.
In Estonia, the dx.exchange platform At the beginning of 2019, a comparable offer of tokenized stock trading was launched, but it was probably unhappily ahead of its time and had to file for insolvency in the meantime. FTX comes much later and follows a trend. Services such as PayPal or Revolut increasingly integrate crypto and stock trading. In this respect, it has its logic that crypto exchanges are also opening up for new business areas.
Conclusion: FTX on the way to the universal platform for traders
For you as an investor the new services of FTX for stock trading are attractive. Instead of implementing investment strategies via different service providers, you get the opportunity to be active in various markets via a central platform at FTX.