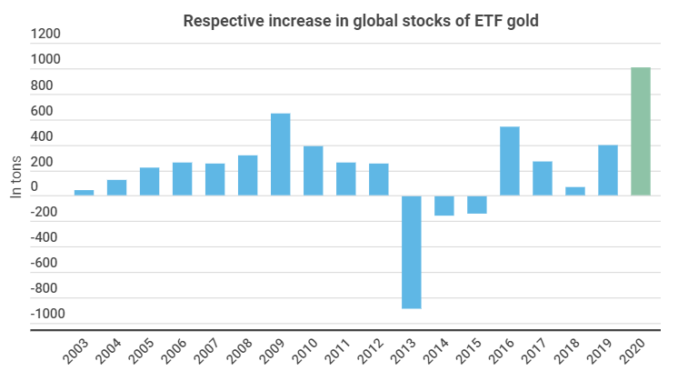 Gold holdings in gold ETFs increased by about 1,003 tonnes this year, compared to an increase of 398.1 tonnes last year. As a new infographic from Block-Builders.net shows, the precious metal is enjoying great popularity among investors. 
It is evident that Germans are particularly fond of investing in gold. A total of 393.6 tonnes of the gold deposits held by gold ETFs can be attributed to fund purchases from Germany. Only Great Britain and the United States of America are ahead in this regard.
A similar picture emerges for states' national gold reserves. As the infographics show, the USA currently holds 8,133 tonnes of gold. Germany is in second place with 3,362 tonnes, followed by Italy (2,451), France (2,436) and Russia (2,299).
Gold – The Asset Of The Hour
Meanwhile, the European Central Bank's gold reserves have climbed to a record high. In the first half of the year, they amounted to €25.63 billion, compared to €18.19 billion just two years ago.
At the start of the year the price of gold rose from $1,528 US to $1,901. Since then, the price of the precious metal has risen even further. If investors' assessments are correct, there is still a long way to go before the end of the year. 31% of Germans expect gold to outperform other types of asset over the next 3 years. In contrast, 25% see equities as the best asset class.