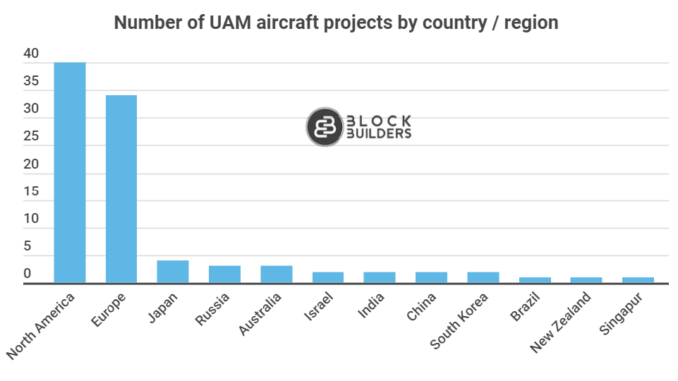 We are not yet accustomed to seeing flying taxis in operation, but this could very well change in the near future. As a new infographic by Block-Builders.de shows, passenger drones are expected to cover a total of 5 million kilometres as soon as 2030. German and European companies stand to benefit significantly from this development, although challenges remain.
There are currently 34 UAM-Aicraft projects in Europe. The term stands for Urban Air Mobility, and primarily includes autonomous air taxis. According to data from a survey by Roland Berger, only North America is ahead in this regard, with 40 active projects.
DAX heavyweight Volkswagen is also serious about developing drone taxis. VW manager Stephan Wöllenstein recently emphasised that the future market for personal mobility is in the air rather than on the road.
Air Taxi Stocks on the Rise
The use of air taxis could bring numerous benefits, one of which is significant time savings. Ride-hailing company Uber states that a trip from San Francisco Marina Bay to San Jose by car would realistically take about 120 minutes. An air taxi on the other hand could cover the same distance in about 15 minutes.
However, significant reservations about air taxis still remain, at least in Germany. 34% of Germans say they would definitely not want to use air taxis.
Developers of air taxis are making a splash, at least on the stock exchange floor. As the infographic shows, the price of shares in EHang has risen by 299.7% in the past year. The DAX gained just 17.3% over the same period.