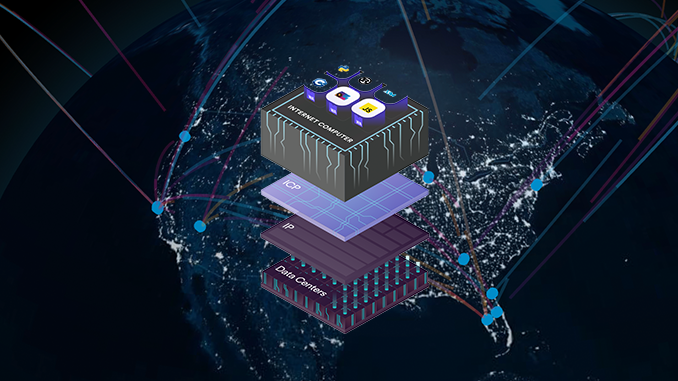 Internet Computer (ICP) will make it possible to organize smart contracts with Bitcoin (BTC) on its network. With this, it considers itself a pioneer in terms of technology.
Since the stock market debut of Internet Computer (ICP) in May, which was accompanied by a lot of hype, it has remained quite quiet around the altcoin. Internet Computer's all-time high of nearly US$740 from back then looks like a relic from earlier times at current values of under US$50. Now the DFINITY Foundation, which is behind ICP, is trying to give the project new momentum. In a press release, the DFINITY Foundation reports that an upgrade to Internet Computer will make it possible to directly settle smart contracts with Bitcoin (BTC) on ICP's network.
According to the DFINITY Foundation, such Bitcoin smart contracts at Internet Computer will be the first of their kind in the industry, opening doors to Web 3.0 for BTC. The upgrade would be possible following a vote by network participants at ICP, which resulted in 96.5 percent approval. According to the proposal's roadmap, Bitcoin Smart Contracts should be integrated at ICP by the end of the year.
Bitcoin smart contracts – really a world first?
Internet Computer points to its "chain key cryptography" as the technological basis that allows it to deliver digital signatures even on external blockchains, such as Bitcoin in this case. Coupled with BTC reserves, it will be possible to confirm smart contracts with Bitcoin within 2 seconds and not have to wait up to 40 minutes for the confirmation of a Bitcoin transaction in the BTC blockchain. This sounds convincing so far – but doubts about the sense of BTC Smart Contracts at ICP are still allowed.
After all, Bitcoin as the lead currency of the crypto industry with its market capitalization of currently 800 billion US dollars has long since made it in the direction of DeFi and Smart Contracts. Tokens such as Wrapped Bitcoin (WBTC) use a solution that is actually quite simple. In order to map Bitcoin in foreign blockchains – in the case of WBTC, this is that of Ethereum (ETH) – BTC are deposited as collateral and then tokens are generated for the external ecosystem at a ratio of 1:1. Wrapped Bitcoin for Ethereum is even ahead of Internet Computer in the ranking of the most capitalized cryptocurrencies. In the Binance Smart Chain (BSC), there is Bitcoin BEP2 (BTCB) accordingly, and such solutions are also applied in other ecosystems. They are always accompanied by the fact that the incompatibility of the original Bitcoin blockchain is virtually bridged and thus scalability, smart contracts and speed of the external blockchains can be accessed for BTC.
Conclusion: Internet Computer is looking for use cases.
A look at the DFINITY Foundation's online presence for Internet Computer is sobering. The references for use cases presented there are modest; an ICP Messenger, for example, has only 36,000 users so far and a LinkedIn copy has just 19,000 entries. At launch, Internet Computer thought it would attract users with decentralized versions of popular web services and create use cases for ICP. So now Bitcoin is supposed to serve as ICP's raison d'être – but Internet Computer's price curve did not turn positive at all after the announcement of BTC Smart Contracts, but remains in a downward trend.
---
You can trade Internet Computer on Binance. Open a Binance Account here and save 10% on fees for a lifetime.