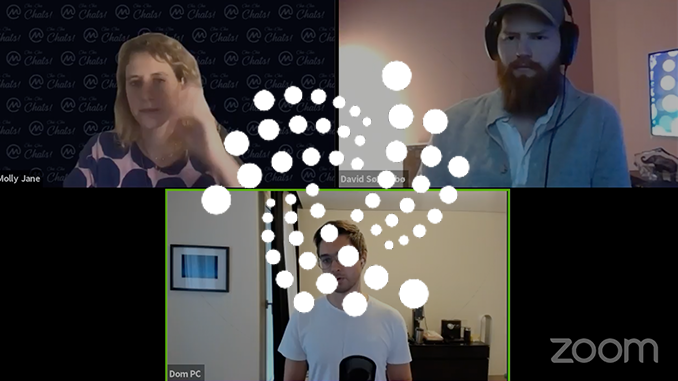 At IOTA, co-founders David Sønstebø and Dominik Schiener are optimistic about the near future. Coordicide aka IOTA 2.0 will surely be transferred to Mainnet in 2021, the two say and look forward to more use cases for IOTA in the real economy.
According to co-founders David Sønstebø and Dominik Schiener, IOTA is well on the way to gaining relevance through technological development. IOTA 2.0, also known as Coordicide, will become a reality in 2021, according to Sønstebø, who considers a postponement of the upgrade a "major setback". Sønstebø and Schiener commented on IOTA's future prospects during a video question and answer session (AMA) by CoinMarketCap. With Coordicide, IOTA wants to eliminate the central coordinator in Tanglenet and operate the network decentrally via a block chain. IOTA 2.0 is currently regarded as the most important piece of the puzzle to gain a foothold in real economy applications.
IOTA Access is also intended to help with this. The platform was presented at the beginning of October and is intended to make it easier for companies of all sizes to implement automated business models in relation to the Internet of Things (IoT). IOTA Access will possibly still be available in 2020 and will provide impetus for "real world applications", it is now said. Compared to other crypto currencies such as Bitcoin (BTC), one of the biggest advantages of IOTA is that it does not require transaction fees.
Sharding at IOTA planned in the medium term
Schiener and Sønstebø are already considering what comes after IOTA 2.0. Sharding plays a central role, which will enable parallel block chains and thus higher performance. IOTA's development team is already working on sharding and it is expected that IOTA will be able to manage 2022 or 2023 million transactions per second (TPS). This is very important in IoT, where devices are passing large amounts of data in real time to IOTA's ecosystem. Sharding will also be implemented in Ethereum 2.0.
IOTA as a basis for CBDC
IOTA is closely following the discussions on state-supported digital currencies. So-called Central Bank Digital Currencies (CBDC) are in vogue, and an E-Euro is under discussion in the EU. IOTA's technology is also suitable for CBDCs, say Schiener and Sønstebø. Discussions with possible projects are underway, but details were not mentioned.
Conclusion: IOTA demonstrates confidence
In terms of content, the latest appearance of the IOTA top management has delivered little new information. But Sønstebø and Schiener were probably more interested in promoting IOTA. They emphasized focused development work and confronted skeptics who doubted the timetable for IOTA 2.0. However, the AMA did not have any effect on the IOTA share price, with the Altcoin remaining below 0.30 US dollars.
---
Best place to buy Bitcoin and IOTA: