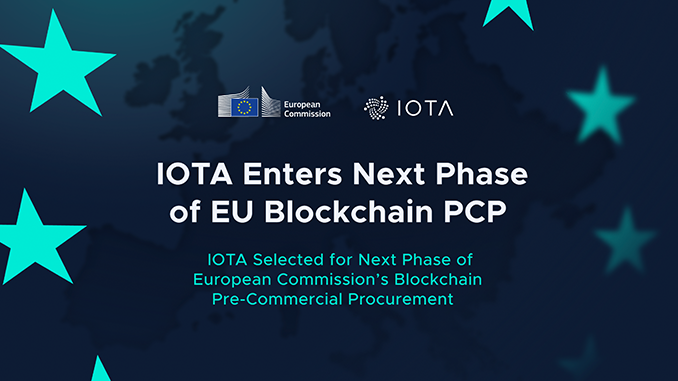 The IOTA Foundation reports progress on the EU's EBSI project, which is scheduled for completion in 2023. This is expected to result in practical European blockchain solutions, such as for recycling of special materials.
The appointment of IOTA to the group of the last three cooperation partners in the large-scale EU project EBSI (European Blockchain Services Infrastructure) in November 2022 had brought positive headlines. After all, EBSI is all about developing European blockchain solutions for the real economy. IOTA has been involved here for a good two years and now describes in a blog post what challenges await it in the final Phase 2B of EBSI.
According to this, IOTA now wants to focus on two specific areas of application there. Firstly, a digital product passport is to be tested in detail for EBSI, which can make the recycling of car batteries and electrical waste more efficient. Second, IOTA has set its sights on the topic of copyrights in the creative scene, where blockchain solutions are to make it easier to assert claims even across borders. IOTA wants to bring smart contracts to EBSI for this right now, but they have not yet been integrated into the mainnet.
However, the IOTA Foundation's attempt to "sell" the launch of the final stage at EBSI as new news caused more surprise. A corresponding post on Twitter found various comments to the effect that, strictly speaking, there is no real news about EBSI and IOTA and that the foundation is rehashing old news. IOTA head Dominik Schiener, meanwhile, invites himself to be quoted as saying that he is "proud" of the successes at EBSI and "very confident" for the future.
In our annual report IOTA 2022, we had classified the EBSI cooperation as an "encourager" because it has the potential to make IOTA solutions better known. Most recently, semiconductor manufacturer STMicroelectronics praised IOTA's participation in EBSI.
Conclusion: IOTA and EBSI a success story?
The crux of EU projects is often that they fail to achieve the desired adoption in industry and business despite having meaningful objectives. This risk also comes with EBSI, and it would be too early to get into a celebratory mood about IOTA just yet. With details like smart contracts, IOTA still has tricky tasks ahead of it at EBSI, not to mention a decentralized IOTA 2.0 that has been stuck in development work for years under the working title "Coordicide." But on the other hand, there is the chance that EBSI modules will be "Powered by IOTA" in the future.