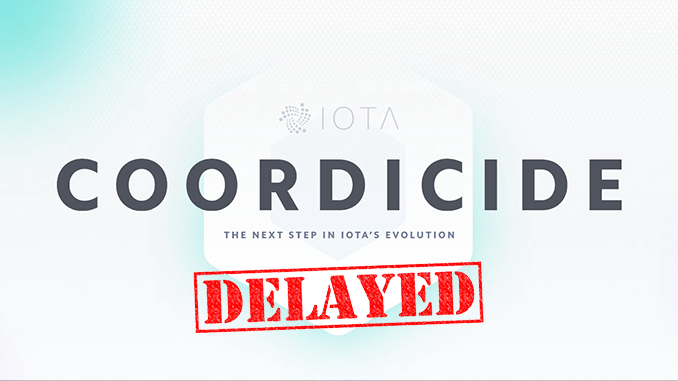 For at least five years, IOTA has been working to transition from a centralized to a decentralized network. But indications show: Even in 2022, this is hardly to be expected.
The difficulties at IOTA in achieving the departure from the central coordinator in Tanglenet through the Coordicide project are well known. The last publicly known target date of 2021 for a decentralized IOTA was already discarded this summer. But even 2022 is probably no longer realistic for Coordicide at IOTA – if one attentively analyzes what Dominik Schiener as head of the IOTA Foundation most recently said about a decentralized IOTA 2.0.
https://twitter.com/Florian7788/status/1439208439746543622
Because Schiener admits in the meantime that a new testnet for IOTA 2.0 will not appear in 2021. This means that even if we are optimistic about the timing, a public testnet for IOTA Coordicide with incentives for debugging would not be realistic until the second half of 2022 at the earliest. The existing DevNet for IOTA 2.0 never made it to this stage. Adding now the usual periods for further testing and preparation for such a major upgrade as Coordicide, as necessary before a launch on the mainnet, 2023 for IOTA 2.0 might be in sight – if fundamental problems in the development work do not arise again. The IOTA Foundation had announced in May 2021 to generally not publish schedules anymore.
Centralized IOTA 1.5 as final stage over years?
Die-hard IOTA fans like to point to success stories like the possible integration into the large-scale EU project EBSI to justify positive outlooks. In fact, it is conceivable that decentralization is not even desired in such politically desired initiatives and that a central authority is supposed to make blockchain-like networks controllable.
But on the opposite side, it is also clear: monetary growth industries like DeFi and NFTs as trading objects are predictably not attractive for a centralized IOTA 1.5. The heated discussion on this when we looked more closely at the newly set development goals for IOTA a month ago illustrate the issue. Smart contracts under IOTA 1.5 may perhaps be an option for public application purposes – but as we know, trust stops when it comes to money.
Incidentally, the increasingly loud requests in the (semi-)official IOTA forums, for example on Reddit or Twitter, for decentralization and a clear target date for Coordicide show that even positive-minded investors are losing patience. Since 2018 at the latest, IOTA's leadership has repeatedly said something like "next year decentralization will definitely come". However, it is then not delivered just as reliably.
Hans Moog has recently acknowledged that he "made some false claims in the past" due to having "limited knowledge about DLT".https://t.co/I9Y19QnsLR

He claimed that #Coordicide was solved and that he was "1mio % sure" that it will be ready in 2020. https://t.co/I9Y19QnsLR pic.twitter.com/snv91bQRwk

— Hund (@Hund_Research) September 9, 2021
Conclusion: IOTA as a cryptocurrency – do we need to correct this notion?
In recent years, IOTA has seen later launched projects from Polkadot (DOT) to Cardano (ADA) to Solana (SOL) move past in terms of market capitalization and excite investors. Here, decentralized principles are followed and this results in money-making use cases. Polemically put: IOTA is steadily using up its leap of faith, and in the IOTA 1.5 system calibrated for centrality, it is unlikely that IOTA will be able to play a larger role internationally as a monetary cryptocurrency.
---
Best place to buy Bitcoin and IOTA: