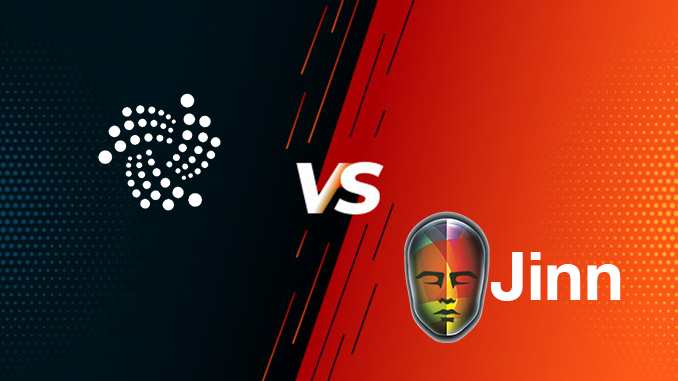 At IOTA, money flows around the predecessor company Jinn are again under suspicion of scam. An early investor reports how capital was raised in 2014 and what IOTA founders David Sønstebø and Sergey Ivancheglo probably did with it.
When it was announced in July 2019 that IOTA co-founder Sergey Ivancheglo aka Come-from-Beyond/CFB was leaving IOTA at his own request, it still seemed like a marginal note. The second founder of IOTA, David Sønstebø, found warm words for CFB and it was said that CFB would continue to be available to IOTA as an external developer and consultant. But in reality, Sergey Ivancheglo's withdrawal turned out to be a prelude to revelations that heavily burdened IOTA through its predecessor company Jinn. Now, a disappointed investor who had made a financial commitment to Jinn in 2014 has rolled up the story from IOTA's early years from his point of view. "Brnt" is the name of this author, remains anonymous so far and claims to be seeking compensation with several other early investors. The way Brnt tells the story about IOTA, Jinn, Sønstebø and CFB sounds like exit scam.
How Jinn became IOTA
David Sønstebø and Sergey Ivancheglo went looking for investors in autumn 2014 to realise the idea of a new type of processor based on the ternary system. For this purpose they founded Jinn and offered Jinn Token. These Jinn Tokens were to be regarded as shares in the project and would be paid with 10 percent of future profits, they said. 100,000 of Jinn's 1,000,000 shares were sold at an ICO on 1 October 2014, Brnt recalls. Initially, there were progress reports – albeit sporadic – from Jinn, which was to develop hardware.
But then came the big surprise in November 2015. The investors were informed by Jinn that the shares could be exchanged for IOTA, or rather should be. Because here in the wings, CFB and Sønstebø had realized that their project also needed software. This work should be bundled under the company IOTA AS. If you don't want to wait years for results at Jinn, you are better off with IOTA, the exchange offer was rhetorically made more attractive. Brnt consistently backs up his descriptions with copies of e-mails and discussion posts in forums.
At the end of November until December 205, the ICO of IOTA was then held. New investors came on board, but also some who held shares in Jinn accepted the offer. IOTA was explicitly advertised as a software project, the IOTA token was not a real coin in this respect and might never be traded on crypto exchanges. According to Brnt, 42 percent of the Jinn tokens in circulation were exchanged for IOTA. Based on the information available at the time, he himself apparently decided that it was better to hold his shares in Jinn.
Meanwhile, IOTA announced to the ICO that IOTA tokens not claimed by July 11, 2017 would be considered as a donation to the IOTA Foundation. Brnt counts 81 tera IOTA (Ti), which could thus be considered as donations from various sources, even at current exchange rates still the proud sum of about 20 million US dollars. But apparently only David Sønstebø has access to this treasure and CFB is the one who claims his share of it.
Brnt feels cheated by the deals from the past and speaks of exit scam. His argumentation is that Jinn was bought under clear conditions. IOTA in an exchange was not an attractive option. Moreover, when investing in Jinn, it was clearly assured that in the event of purchases or an exit from Jinn, the early shareholders would receive a 10 percent share of the profit. This, too, had not been done in the reorientation of Jinn/IOTA.
Sønstebø and CFB – both villains of IOTA?
Following CFB's departure from IOTA, Sønstebø and Sønstebø had a heated argument, faecal language and accusations of slander were and are publicly read. In March 2020, CFB announced a new, clean IOTA, but the idea has so far run aground. Meanwhile, a former employee and a self-proclaimed critic are also making serious accusations against Sønstebø.
CFB, who is not easily known in the cryptoscene as a private person, gets away without any major criticism in the clarification of the beginnings of IOTA/Jinn. After all, only CFB has made the topic of the "disappeared" IOTA worth millions public at all and wants, according to reports, that these will finally go to the IOTA foundation.
Brnt sees things a little differently and wants his share of the cake. But he too is shooting his mouth off to Sønstebø, who makes a reasonable settlement impossible. He quotes a Sønstebø who once publicly admits to having lost the legal overview of Jinn, IOTA, Labs and processors. But this Sønstebø instructs CFB beforehand not to send donations to a certain address, which is "clean" from the past Jinn/IOTA AS. And this Sønstebø says he owns Jinn completely until today and demands 13,5 Ti from CFB.
Conclusion: Systematic failure or bad intention among IOTA founders?
However you twist and turn the past at IOTA: It hasn't seemed like a mistake Sønstebø has been responsible for for a long time. Brnt provides no new evidence for this, but a new perspective. For he puts the spotlight on the very first financial round that Sønstebø and CFB held, promising clear conditions with the important reference to direct participation. What then happened when the company switched to IOTA can still be described as typical start-up chaos by well-intentioned observers.
But from the point of view of a previous investor, whether Jinn or IOTA, such a mild verdict is hardly to be expected. So for years there have been considerable sums of money in IOTA and Jinn shares in accounts that Sønstebø has privately claimed. This is contrary to the promises to consider unclaimed tokens as donations to the IOTA Foundation. It also contradicts the interests of the early Jinn investors who wanted to invest money in hardware development and did not want to donate at all.
As long as David Sønstebø is not comfortable with resolving the situation transparently, he will also have to bear the suspicion of embezzling investor funds. Will a court have to decide on the matter in the end? We are not yet aware of any legal precedent, and potential plaintiffs seem to shy away from the risk of legal costs. At least Brnt does not rule out a lawsuit.
Meanwhile, Sønstebø as head of the IOTA Foundation is threatening to become more and more of a burden for the whole project. After all, he continues to negotiate on behalf of IOTA with big industry about cooperation and the people he talks to will know the news about his understanding of business practices. Without clarification – preferably by external auditors – this crypto crime will certainly not come to an end.
---
Best place to buy IOTA: