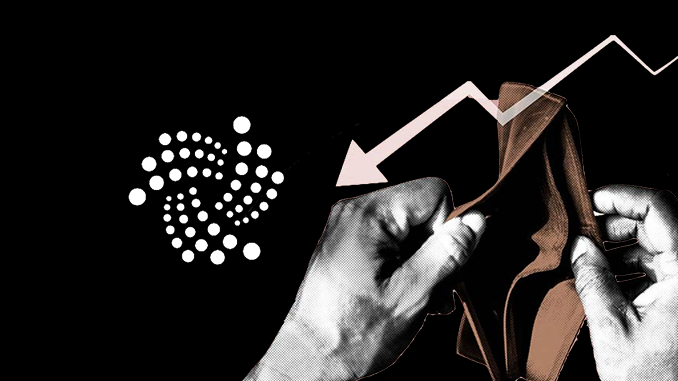 There has been talk for a long time about impending existential financial gaps at the IOTA Foundation. Now the chairman Dominik Schiener surprises with statements, one wants to do without EU funds in the future. Does the bankruptcy threaten?
At IOTA, the inquiries are becoming sharper as to whether the financial reserves are sufficient to meet the ambitious development goals for 2023. Crypto podcaster Lukas Leys compiled some recent statements from foundation head Dominik Schiener on Twitter that suggest a change in direction for IOTA's finances has also been set in motion internally. One will "never again take EU grants," Schiener said according to the statement. Other methods of funding for the IOTA Foundation, such as corporate support and consulting services, have also proven to be a "dead end," according to Schiener. That's why it was now relying entirely on "developing expertise in asset management."
Schiener's position statement is surprising, because, for example, the IOTA Foundation's involvement in the EU project EBSI has been promoted as exemplary in the past. IOTA has also always been proud of its many collaborations with industry. When asked how long the IOA Foundation would be funded for, Schiener replied gruffly, "Let's focus on the things that really matter – delivering products that make IOTA usable." By this, Schiener likely means the major development goals for 2023, specifically the integration of the Ethereum Virtual Machine (EVM) into the IOTA ecosystem and the decentralization of the network, which has been absent for years under the working title of "Coordicide."
Podcaster Leys also followed up with Software AG's vice president of engineering Christoph Strnadl because they are often on board with IOTA, especially in EU projects like EBSI. But Strnadl only said he had no insider information on the background of Schiener's roundabout. The word from the IOTA community, however, is that at least EBSI will be completed by the foundation in an orderly fashion in 2023, as planned. Nevertheless, it remains unusual and not very diplomatic how Schiener dishes out in the direction of IOTA cooperation partners ("do not help us achieve goals").
IOTA Foundation in financial trouble – will the lights go out in 2023?
Schiener belongs to IOTA co-founders and is the only one of them still active full-time in the foundation. He again evokes the vision of the foundation becoming a long-lasting institution to have a visible impact on the world. But restructuring and mass layoffs in the summer of 2022 at the IOTA Foundation already heralded austerity. Research by Twitter user ThatsNotMyCode revealed in late 2022 that the foundation was cashing out its reserves in IOTA, apparently to ensure liquidity. Schiener then disseminated an overview of the IOTA Foundation's finances – and these gave the impression that, in view of ongoing costs estimated at up to 1 million euros per month, there was no more room to plan reliably for 2024 either. Since then, at least we are not aware of any further update from Schiener on reserves.
Bottom line: money and time put pressure on IOTA.
Even setting aside the financial issues at IOTA for the moment, there is no room for the all-clear. That's because the integration of EVM, initially announced for the Shimmer (SMR) side project, has also been in development for at least two years and hasn't even made it to a public testnet yet. EVM is expected to open the door towards Decentralized Finance (DeFi), first for Shimmer and then for IOTA, where it is hoped there will be money-making use cases. In this mixed bag, along with the pending decentralization of IOTA, Schiener's comments seem increasingly nervous. It would be up to him to radiate calm and provide the necessary support for the internal developers by means of a clear schedule and transparent information on the financing security of the IOTA Foundation.