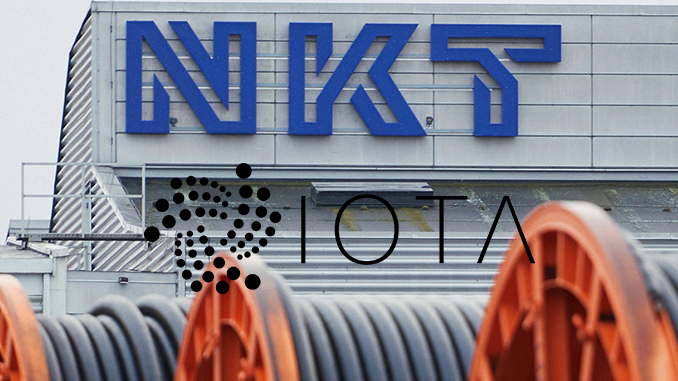 The Danish cable manufacturer NKT has entered into a partnership with IOTA to innovate the transport and billing of cable drums. For this purpose, each transport unit is equipped with an e-wallet that is connected to the IOTA network.
At IOTA, the Berlin-based foundation can look forward to a deal that will prove IOTA's suitability for industry. The cable manufacturer NKT has issued a press release announcing that in future it will use IOTA in its main business area. When NKT delivers cables worldwide, the cable drums will be equipped with an e-wallet. This will allow information to be exchanged and payments to be processed via IOTA's Tanglenet. NKT speaks of an "innovative partnership". Now, cable drums may not sound exciting at first glance from the perspective of a crypto dealer. But the concrete case study shows the advantages of IOTA.
How NKT wants to make its cable drums autonomous with IOTA
IOTA sees itself as one of the world market leaders in the cable sector of all kinds and expects continued demand for its product in the future due to the electrification of emerging markets and digitalization. In 2019 the company will have achieved a turnover of about 1.3 billion euros. Cable is traded and shipped wound on drums. NKT expects that equipping the cable drums with an IOTA-compatible e-wallet will save costs in logistics and accounting. IOTA will make the trading goods autonomous. For example, a cable drum can automatically pay out 2 euros if a new destination is reached and documented during transport. Compared to manual billing, this is much more efficient. The e-wallet can also accept payments from the end customer and should also help decisively to solve problems with damaged or lost goods. NKT compares the e-wallet to IOTA solutions in the automotive industry, where a project with Jaguar Land Rover attracted a lot of attention in spring 2019.
Is IOTA recovering from the self-made lockdown shock?
When the corona virus was still an abstract danger in this country at the beginning of the year, IOTA experienced its very own lockdown. A critical security hole in the official Trinity Wallet forced IOTA to shut down its Mainnet for a month. IOTA's share price lost more than half of its value during this time and plummeted to 0.12 US dollars. But as IOTA's ecosystem became operable again, the price of its own crypto currency slowly recovered. IOTA is currently quoted at around 0.18 US dollars and shows a slow upward trend. NKT as a showcase customer, which does not start a test program but brings IOTA into industrial cycles, is certainly not a bad argument for further projects in which IOTA actually scores in the Internet of Things (IoT).
---
Best place to buy IOTA: