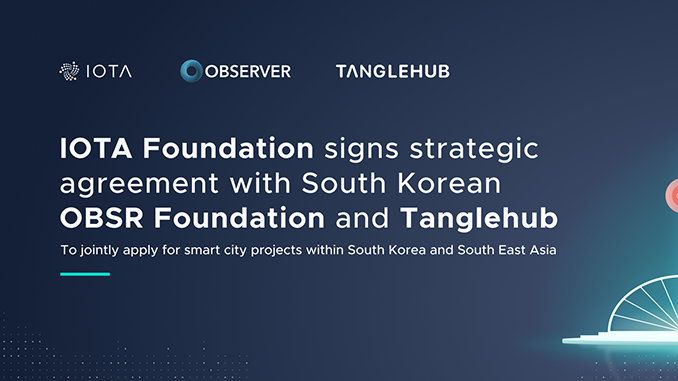 The IOTA Foundation has formed a strategic alliance with the Observer Foundation in South Korea and the startup Tanglehub to jointly participate in tenders for smart city projects. Southeast Asia is being targeted.
IOTA has been involved in the topic of smart cities for years, with pilot projects already being implemented in Taiwan and Norway, for example. Now the IOTA Foundation is expanding its smart city plans through a strategic partnership, as it announced in a blog post. Specifically, an alliance has been agreed with the Observer Foundation from South Korea and the official IOTA partner Tanglehub. Together, they want to apply specifically for smart city projects, not only in South Korea, but also in Southeast Asia.
Background on Observer Foundation, Tanglehub and IOTA
The Observer Foundation focuses on weather data. For this, it relies on a concept in which mini weather stations and other sources such as smartphones or cars automatically provide up-to-date weather data. Participants are compensated for this with the altcoin Observer (OBSR), which is traded almost exclusively on Bithumb, according to Coinmarketcap. The Observer Foundation says it already has project experience for smart cities in South Korea.
Tanglehub, in turn, is a startup funded by the IOTA Foundation that helps implement IOTA solutions in Internet of Things (IoT) projects in a practical way. So far, the focus has been on the EU region.
On behalf of the IOTA Foundation, Holger Köther, Director of Partner Programs, explained that concrete collaboration has already begun. Tanglehub is being used to connect Observer's weather stations to IOTA's network. In addition, the Observer Foundation will be integrated into IOTA's already ongoing smart city projects, if possible. Nothing was disclosed about financial aspects of the alliance.
Weather data is important for smart cities, for example, when heating or cooling services in buildings need to be controlled efficiently, including for environmental reasons. Precise weather data in real time and as micro-locally as possible also play a role in traffic control. In this respect, the trio of IOTA Foundation, Observer Foundation and Tanglehub makes perfect sense. However, it seems too early for a further evaluation.
Conclusion: IOTA in Asia – Smart Cities on the rise
Smart cities are undeniably a future topic, environmental and traffic issues accelerate the trend towards optimizing processes with the help of digital possibilities. The IOTA Foundation is already benefiting from this development in the EU and can now probably have realistic hopes of demonstrating this expertise more frequently in South Korea and the Southeast Asia region. It remains to be seen when the new alliance will be able to draw attention to itself for the first time with successful practical cases.
---
Best place to buy Bitcoin and IOTA: