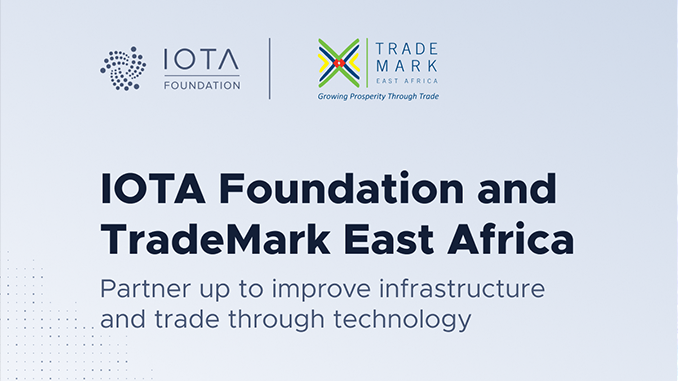 The IOTA Foundation has entered into a strategic partnership with TradeMark East Africa, an organization dedicated to breaking down trade barriers on the continent. The technological basis of IOTA will help in the future.
IOTA manages to get out of the deep valley of negative headlines and to set its own accents again. In a blog post, the IOTA Foundation announces that it will cooperate with TradeMark East Africa (TMEA) in the future. TMEA is a non-profit association that aims to bundle the interests of companies on the African continent and focuses on simplifying cross-border trade. IOTA with its Tanglenet is now set to play a major role in this and has agreed to train local IT professionals to use IOTA.
Background on the cooperation between IOTA and TradeMark East Africa
TMEA currently has offices in eight countries, Burundi, Congo, Ethiopia, Kenya, Rwanda, Southern Sudan, Tanzania and Uganda. TradeMark East Africa is financially supported by Scandinavian foreign ministries and the EU, among others. TMEA has recognised that many small and medium-sized companies have great difficulty in organising the cross-border distribution of their products. TMEA offers help in this regard and also advises governments on how to reduce bureaucracy at the borders. IOTA is now to be used in future to record documents in a tamper-proof manner and make them available in a transparent manner. In this context, the advantage of IOTA is particularly emphasized, as it provides a free solution. Officially, the IOTA Foundation has a seat on the board of TMEA and promises to train several developers from Kenya. Similar to other IOTA projects, the aim is, for example, to reliably map supply processes. The use of IOTA as a crypto currency is possible, but is not initially the main focus.
IOTA recalls its old strengths
The glamour factor of projects in Africa may not be particularly high, but IOTA is now playing out its strengths on this often neglected continent. Distributed Ledger as a progressive solution for cost reduction through less bureaucracy and paperwork is recognized worldwide, IOTA can refer to the multitude of successful projects in this area. With TMEA they have found an African partner who is also established in their own way and whose word carries weight. Even if IOTA will not be used as a means of payment at first – the name will get public attention in East Africa and companies will set up interfaces to Tanglenet. After IOTA's four-week break due to a serious security hole in the official Trinity Wallet, this is finally one of the news that IOTA can score with investors in the medium term.
---