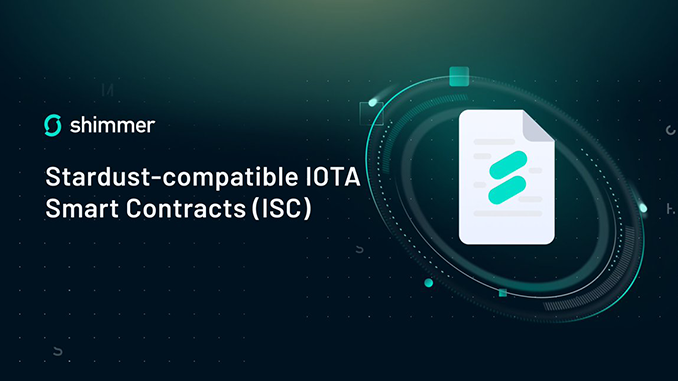 IOTA Smart Contracts (ISC) can now be tested at the Shimmer (SMR) side project. A module for this in version 0.30 has been released. Are smart contracts finally coming within reach in the IOTA ecosystem?
Originally, smart contracts, which are important for many lines of business, were to be integrated in the IOTA ecosystem by a project called Qubic. However, in the spring of 2020, the IOTA Foundation put Qubic on hold and has since been working on the essential expansion of possibilities in Tanglenet under the title IOTA Smart Contracts (ISC). In October 2021, a beta version for ISC was presented for this purpose, but even IOTA supporters quickly recognized a considerable need to catch up here. Almost one year later, IOTA now publishes ISC in version 0.30 and explains in the accompanying blog post that weaknesses of earlier approaches have been ironed out.
The biggest change was the departure from GoShimmer as the node software for ISC, since this software itself is designed for experiments and does not achieve absolute stability. ISC in version 0.30 is now designed for the Hornet node software and thus potentially also compatible for IOTA's Tanglenet. IOTA Smart Contracts can now be tested for the time being in the public testnet of Shimmer (SMR), the most important side project of IOTA, which is about to be launched. ISC is now expected to shine with elegant support for the Ethereum Virtual Machine (EVM), which has widely established itself as a standard for smart contracts. Additionally, ISC integrates smart contracts in the format of WebAssembly (WASM) as well as in an IOTA proprietary format.
According to the developers, IOTA Smart Contracts in trial version 0.30 come with extensive features to set fees, build bridges into other ecosystems such as from Ethereum (ETH), and also map NFTs as well as third-party tokens. The community applauds it on Twitter, for example, but questions continue to arise.
Shimmer is expected to go live before the end of 2022, at which time it is also expected to allow free trading of SMRs on crypto exchanges. Many compare Shimmer to Kusama (KSM) in that Polkadot has established its test environment under real-world conditions. IOTA Smart Contract are to be part of the Stardust christened package for Shimmer, with which SMR is to make its monetary debut. Making this happen in the remaining 15 calendar weeks of 2022 is an ambitious goal. Open alongside this is progress on the IOTA wallet Firefly, which also needs to be prepared for smart contracts.
Conclusion: IOTA Smart Contracts – optimism allowed?
The blog post on ISC in version 0.30 and public test start sounds overly optimistic, as usual with the IOTA Foundation. But besides open questions about the schedule for Shimmer (SMR), it also leaves out who could use the IOTA Smart Contracts where for monetary application purposes. Because with the current solution Hornet as node software and Stardust as an overall package, evolution succeeds with IOTA, but is initially no decentralization associated. IOTA also wants to test this goal of Coordicide, the abolition of the central coordinator, initially with Shimmer – but there is no talk of a public test phase in this respect so far. Thus, according to the information available, it still seems to be a long way until decentrally organized smart contracts become reality, at least at Shimmer and later at IOTA itself.
---