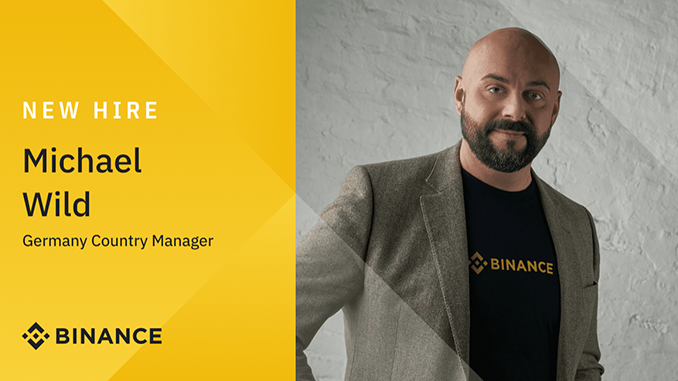 The world's largest crypto exchange Binance has been in trouble with regulators in Germany. Thus, a license from the Federal Financial Supervisory Authority is one of the main goals of Binance's new Germany boss.
For about half a year, Michael Wild has been responsible for operations in Germany, Austria and Switzerland at Binance, the world's largest crypto exchange. However, Wild rarely made a public appearance. Now Wild has outlined his strategy for Binance in Germany in an email to cooperation partners, including Block-Builders.de. At first glance, the most important news here: according to Wild, Binance recently applied for a license from the German Federal Financial Supervisory Authority (BaFin) and hopes for a positive decision to legally expand its business here. Coinbase's rival became the first crypto exchange to receive a BaFin license in the summer of 2021. Wild has experience working with regulators in his earlier career at eToro and auditing firm KPMG.
In addition to the ongoing application process, Wild highlights the establishment of two Binance offices in Germany. In Berlin and Frankfurt am Main, Binance plans to provide contact persons for authorities and bundle country-specific activities through national offices. With a population of 83.2 million in 2020, Germany is the largest consumer market in the European Union (EU), Wild says, and therefore deserves his focus in the coming months. He also acknowledges that Binance's relationship with German authorities has not always been the best in the past.
That's probably why he points to how Binance has transformed its offering for customers residing in Germany. For example, Binance stopped trading derivatives and futures for the German market as early as August 2021, and it still wants to use strict geo-blocking to prevent this restriction from being circumvented via technical tricks. Where you can find good places to trade Bitcoin futures and co. with other providers from Germany, we have listed for you here.
A second issue, which occupied German Binance customers for a long time, Wild also mentions as a concession. Because Binance had to announce in the summer that favorable SEPA transfers for deposits and withdrawals could no longer be served. It was not until the beginning of this year that a new partner for SEPA transfers was found in the form of PaySafe, and Wild describes this as a suitable provider with EU-regulated permission for e-money.
Conclusion: Binance Germany with new management set for expansion
The fact that Michael Wild is now seeking publicity for Binance Germany fits well with the strategy proclaimed by CEO Changpeng Zhao in July. CZ made it clear seven weeks ago that Binance wants to accommodate authorities and strengthen regional offices to do so. There are also plans for a global headquarters for Binance. Binance's leadership has understood that the "Wild West" times are over for the crypto industry in Western markets and that they need to adapt accordingly. For German Binance customers, it is now exciting to see how the platform's product range can develop with the hoped-for BaFin license behind it. German-language support is likely to be high on the wish list, but also tools to easily and conveniently prepare private crypto transactions for the tax office.
---
Open a Binance Account here and save 10% on fees for a lifetime.