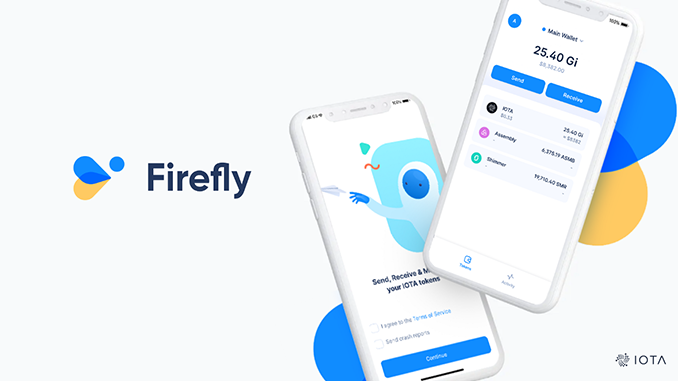 The official IOTA wallet Firefly is now available in mobile version as an app for Android and iOS. Actually, Firefly Mobile should already be released at the launch of IOTA 1.5 (Chrysalis) in April 2021.
IOTA celebrates a sense of achievement: Firefly Mobile has been released and thus there is finally an official wallet for IOTA again that can be easily operated on smartphones running Android or Apple's iOS. What is no longer mentioned in the corresponding announcement, however: Firefly Mobile was actually supposed to launch in April 2021, when a new wallet became necessary due to Chrysalis' upgrade to IOTA 1.5. IOTA with its unique Tanglenet is not compatible with common software wallets and investors therefore have to access the Firefly Wallet. Until now, they were only able to do so via desktop versions for Windows, Mac and Linux.
The Firefly Mobile development team writes that their apps allow old IOTA 1.0 to be migrated to 1.5 as well. According to this, almost 10 percent of all IOTA are still at the time before Chrysalis and with Firefly Mobile, a part of them could finally take the step towards the now valid standard. Of course, with Firefly Mobile not only IOTA can be stored, but also sent and received. Firefly wants to maintain the highest security standards and explicitly thanks the IOTA community, which helped with testing pre-release versions and creating translations in 25 languages – including German.
For IOTA, Firefly Mobile is also an immensely important detail in terms of ecosystem expansion. Initially in the Shimmer (SMR) side project, DApps are soon to open up divisions such as DeFi, NFTs and gaming before the end of 2022. Many users have long used their smartphones as a matter of course for this in other ecosystems such as Ethereum (ETH), with Metamask, for example, providing a powerful mobile wallet as a hub. So it's no surprise that the developers of Firefly Mobile are now saying that integrating Shimmer is the next main goal.
Bottom line: Firefly Mobile on IOTA – better late than never.
Long-time investors in IOTA will remember the fiasco with the former Trinity wallet, where a serious security flaw necessitated a four-week emergency shutdown of the tanglenet in February and March 2020. The Firefly Wallet has so far not attracted attention due to security-related bugs, and one can hope that this will also be the case for the mobile version. However, the example of Firefly Mobile still shows that schedules for IOTA should be treated with great skepticism.
---