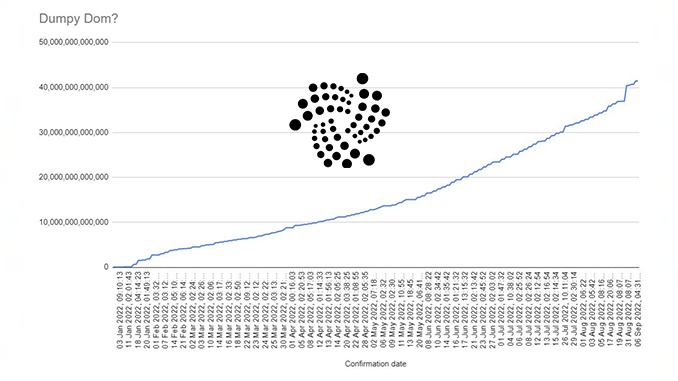 A good 40 Ti of IOTA have been sold off by a single wallet since the beginning of the year. IOTA critic "Buffy, the fudster" suspects insider trading. The community is puzzling over what exactly happened.
In the IOTA community, critic "Buffy, the fudster" has more enemies than friends. Her biting, technical criticism of content-related aspects of IOTA and trench warfare does not go down well with those who want the project to have a positive and cohesive public image. On the other hand, "Buffy, the fudster" has not made any demonstrable mistakes so far; on the contrary, her negative predictions have already been repeatedly confirmed. Now a new coup by her is causing a stir. On Twitter, she points out the conspicuous behavior of a wallet that has turned a good 40 Ti of IOTA into money since the beginning of the year; the sale has brought in well over 10 million US dollars.
Of course, this alone would not be a reason to get upset. But "Buffy, the fudster" noticed several details that suggest the owner of the wallet had insider knowledge from the IOTA Foundation. For example, the sales pace was massively increased a few hours exactly before it was decided that additional tokens would be generated at the IOTA side project Shimmer (SMR) for startup funding. A second suspicious rash of IOTA sales from the wallet in question was spotted by "Buffy, the fudster" at the time when Foundation CEO Dominik Schiener flirted with resigning.
Schiener has since clarified against the critic that he himself had nothing to do with the Wallet. However, Schiener also sees the striking parallels in Wallet's sales tactics to major events at IOTA before they became public. He promises to look into the matter and clarify whether the Wallet can be attributed to a person in the IOTA Foundation. Another detail about the wallet also raised eyebrows: it participated in IOTA's staking events late – but again, exactly when the IOTA Foundation itself was also late in staking.
A guessing game has now begun in the community. Is there, after all, a conclusive explanation as to how the wallet in question was able to arrive at its sales decisions independent of insider information? Or does a black sheep have to be unmasked? The tenor is additional demands for more transparency from the IOTA Foundation regarding the sales originating from there.
Conclusion: Unrest at IOTA – again suspicion of insider trading
Accusations of insider trading are nothing new for IOTA. Already at the end of 2020, there was a leak that published minutes of discussion circles in which the IOTA Foundation exchanged information with major investors, including financially piquant details. In the latest case, it remains to be seen whether Dominik Schiener will actively cooperate in the investigation as promised.
---