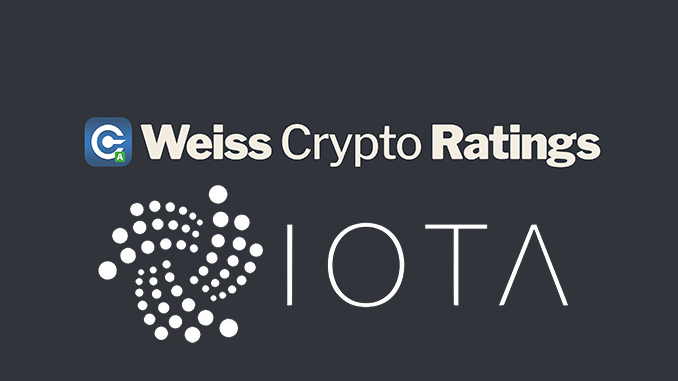 In the discussion about the financial reserves of the IOTA Foundation, Weiss Crypto Ratings backed out. The warning was withdrawn that IOTA could soon run out of money. This will be done after discussions with the IOTA team and re-examination. Weiss Crypto explicitly apologized.
A turnaround in the hiccup over the financial reserves of the IOTA Foundation: Just last week, the respected agency Weiss Crypto Ratings joined the chorus of those who expressed considerable doubts about sufficient reserves at IOTA and warned of the risk of lack of financing. Now, Weiss Crypto Ratings has apologized on Twitter for any "inconvenience" that this warning may have caused:
After #IOTA team reached out to our analysts concerning our recent IOTA tweet, we conducted additional research that showed our commentary on news about IOTA was based on false premises. We apologize to crypto community for any issues this might have caused.

— Weiss Crypto Ratings (@WeissCrypto) August 31, 2020
The reason for Weiss Crypto Ratings' withdrawal was therefore indications from the IOTA Foundation, which would have led to a review of the previous calculation. It turned out that the assumptions made were wrong. Previously, Weiss Crypto Ratings, like others, had concluded, based on publicly available information on the finances of the IOTA Foundation, that the latter was threatening to become insolvent in the summer of 2021. What additional information Weiss Crypto Ratings has now received remained open. The agency's apologetic tweet was endorsed by Foundation Chairman and IOTA co-founder David Sønstebø, among others. He commented: "Mistakes happen, pleased that you have recognized and corrected yours.
Weiss Crypto Ratings gives outlook for IOTA at C+
In parallel, the rating agency pointed out that its ratings are based solely on fundamental and technical data. Current news and comments would not be included in the rating model. Consequently, Weiss Crypto Ratings left a C+ for IOTA. A few months ago, IOTA had received a B+ from Weiss Crypto Ratings. IOTA's price was unimpressed by these developments and is now quoted at around USD 0.36.
Conclusion: IOTA Foundation with stage win
An independent assessment of the financial situation of the IOTA Foundation remains difficult as long as there are no transparent figures on the table for all interested parties. But for the time being, IOTA can be pleased to have dispelled any doubts by the relief provided by Weiss Crypto Ratings. Thus, IOTA is now focusing its attention on the start of phase 2 of Chrysalis, which will complete IOTA 1.5 by the end of October and pave the way to IOTA 2.0 aka Coordicide.
---
Best place to buy Bitcoin and IOTA: