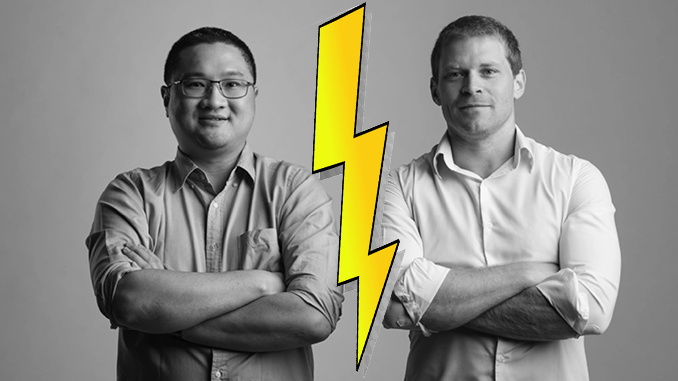 The Cake Group of founders Julian Hosp and U-Zyn Chua is once again making job cuts. U-Zyn feels ignored and threatens to sue Hosp. DeFiChain (DFI) and DUSD are also deep in the red.
Crypto celebrity Julian Hosp's companies are in trouble: At the Cake Group founded by him and U-Zyn Chua, 30 percent of employees have to go. This was first reported by the trade magazine "Tech in Asia". What is particularly surprising is that the Cake Group had apparently already made massive staff cuts earlier this year . At the time, Hosp denied details and promised new hires. However, the Cake Group is now in a dangerous situation in terms of manpower – because even co-founder U-Zyn Chua publicly contradicts Hosp's personnel decisions on X.
The technical director U-Zyn writes that the majority of the programmers and developers affected are "essential" for the progress of "our company". However, the rift between the founders of Cake Group, Julian Hosp and U-Zyn, goes even deeper. In an internal email, U-Zyn emphasized that far-reaching decisions such as the job cuts had to be decided by the Management Board. CTO U-Zyn therefore feels betrayed by Julian Hosp and has threatened to take legal action. Hosp, on the other hand, believes that as CEO he is entitled to make decisions. Personnel costs must be reduced by 50 percent. The bottom line is that 122 people are now still employed by the Cake Group.
Hosp's DeFiChain (DFI) and DUSD at all-time lows
This is also likely to have an impact on Julian Hosp's "big" projects, which advertise with "Decentralized Finance" (DeFi). On the one hand, there is the DeFiChain (DFI) token, which is currently trading at a new all-time low against Bitcoin (BTC). And there is the associated alleged stablecoin DUSD (Decentralized USD), whose price curve has crashed to an all-time low of USD 0.15. As a stablecoin, DUSD should always be worth USD 1 – but anyone who wants to redeem DUSD now has to deduct at least 30 percent fees from the 15 cents. DeFiChain and DUSD are managed by a subsidiary of the Cake Group and U-Zyn is also on board.
The collaboration between Hosp and U-Zyn was last noticed in a project for Bitcoin Ordinals. We last reported in detail on the downward trend of DeFiChain in June, and things have gotten even worse since then. The decline of DUSD was already explained in our archive in the summer of 2022 and has continued ever since.
Conclusion: Hosp falls out with co-founder – projects tumble into the abyss
Julian Hosp is an eternally radiant sunny boy – but his history as an entrepreneur is characterized by bankruptcies. We remember TenX and Lyoness here. Respect is due to our colleagues at "Tech in Asia", who also do not allow themselves to be dazzled by Julian Hosp's ever new advertising messages, but instead dig deep. In our view, it would take a crypto miracle for Cake Group, DeFiChain and DUSD to get back on their feet. But now the specialists are gone – which should be an urgent warning for investors.
---