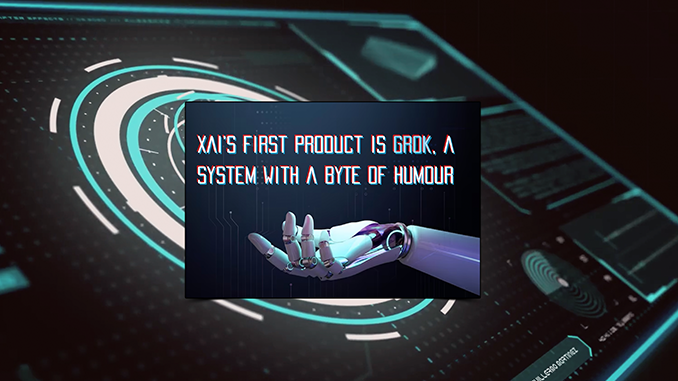 In the crypto scene, the GROK token is the talk of the town. The new cryptocurrency "borrowed" its name from the Grok project, which is supported by Elon Musk for X and revolves around artificial intelligence.
In the search for the next hot trend, investors are coming across GROK these days. And from here on, it's important to pay close attention. Because on the one hand, there is the chatbot Grok, which Elon Musk unleashed on X at the weekend. And then there is a cryptocurrency of the same name, GROK, which has so far mainly been traded on decentralized crypto exchanges – but has already reached a trading volume of more than 100 million US dollars a day and has recorded an increase of more than 700 percent since 7 November. The GROK cryptocurrency is classified as a meme coin and has nothing directly to do with Elon Musk's Grok.
But the timing seems to have been perfect. Grok at X, based on artificial intelligence, delights users with uncensored humor and thus differs from other AI solutions such as ChatGPT. On the website of GROK, the cryptocurrency, a tweet by Elon Musk is presented as inspiration. On Tuesday night, rumors caused a stir that the developers of GROK had plundered coffers, which apparently turned out to be fake. One thing is clear: the two Grok form a combination on crypto Twitter that has great appeal. What is certain, however, is that the developers of GROK have already launched a scam token in the past. ZachXBT has explained this on X.
Meanwhile, observers remember PEPE or tier coins, which caused a sensation in 2023. Elon Musk, on the other hand, touted Dogecoin as a beloved meme coin years ago, making DOGE the absolute number one in this sector. As far as is known, the eccentric Musk has not yet commented on the GROK cryptocurrency.
Conclusion: GROK – here to stay?
If you as an investor are now thinking "GROK, I have to have it" – then please also consider the risks. GROK is a completely normal ERC-20 token that anyone could have launched in a few minutes and with little money. The Grok at X is a completely different project and (so far) has nothing to do with crypto. It is quite possible that the hype surrounding both groks will quickly die down – and that little or nothing will remain of the theoretical profits and advantages. But GROK has certainly added a new chapter to the history of meme coins.
---