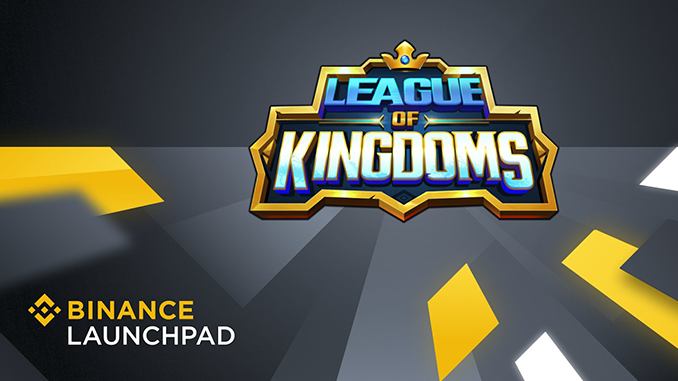 In what is now Binance's 26th ICO, League of Kingdoms (LOKA) is up for public sale for the first time. LOKA is the native token in the blockchain game. ICOs at Binance Launchpad are known for good odds.
Metaverse tokens as a generic term for game-like applications of blockchain technology are on the rise, with representatives such as The Sandbox (SAND) and Decentraland (MANA) scoring significant price gains in 2021. Now Binance Launchpad is launching League of Kingdoms (LOKA), the ICO of another such metaverse token. For those who are not yet familiar with Binance Launchpad, this is the format in which the world's largest crypto exchange launches new coins on the market via a special sale and then lists them. In recent years, among the ICOs on offer at Binance Launchpad were projects such as Polygon (MATIC), which brought early investors 1,000 percent plus and more.
Buy League of Kingdoms (LOKA) at Binance Launchpad – here's how.
As usual, Binance requires the possession of Binance Tokens (BNB) for participation in the ICO. From today, Wednesday, until January 20, 2022, Binance will use hourly snapshots to determine how many BNB each customer individually holds on average during the specified period. Based on this, it will then calculate how many League of Kingdoms (LOKA) each individual can buy on the morning of January 20.
League of Kingdoms has reserved a total of 25 million LOKA for the ICO and is looking to raise $4 million through it. The estimated fixed price is 0.16 US dollars per LOKA, which must then be paid in BNB on January 20. In a previous private sale of League of Kingdoms, 0.10 US dollars per LOKA was called for. Since the project is already partially online and has attracted more than 80,000 daily active players, the current price for LOKA seems fair. After League of Kingdoms tokens are sold and distributed via the ICO on January 20, Binance lists LOKA. From experience, this is the time when profit taking can be easily realized. ICOs at Binance Launchpad are consistently oversubscribed many times over, so there is brisk demand for the new coins after them.
In League of Kingdoms, LOKA serves as a governance token for participation in strategic development issues, as an in-game payment method, and also for upgrading game characters and equipment. In League of Kingdoms' Metaverse, you can build castles and lands, compete with other players, or focus on trading rare items and land.
Conclusion: Metaverse Boom brings League of Kingdoms (LOKA) to Binance
We keep pointing you to new ICOs at Binance Launchpad, as they bring very good chances of winning. The differences to Binance Launchpool and the promotions there are explained here. If you already hold BNB on your customer account at Binance or buy now, they should automatically qualify for Launchpad. Important is the early 20th of January, when you have to confirm your participation in the ICO to be able to buy LOKA and – if desired – to sell it again with a price premium.
---
Open a Binance Account here and save 10% on fees for a lifetime.