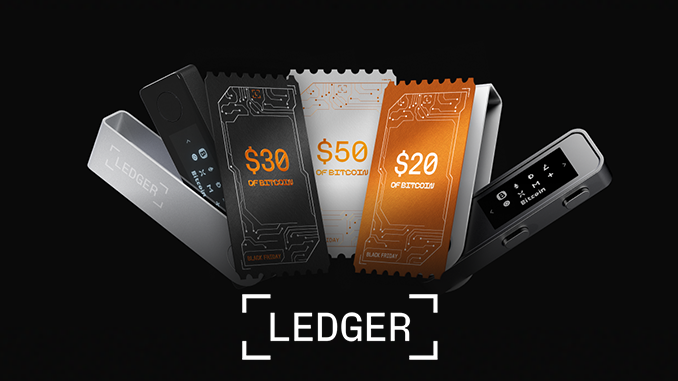 The hardware wallet manufacturer Ledger is kicking off its Black Friday week today. When you buy a Ledger Nano S Plus or Nano X, you will receive 20 or 30 US dollars in Bitcoin as a bonus, an attractive offer.
The time has come: Black Friday is the order of the day in the run-up to Christmas and the global market leader for hardware wallets, Ledger, has also launched a good offer. Ledger is not directly reducing its prices for Black Friday, but is adding a bonus in Bitcoin (BTC) to orders. Specifically, when purchasing the entry-level model Ledger Nano S Plus, 20 US dollars in Bitcoin will be added, which means a discount of around 25 percent on the list price of 79 euros.
The Ledger Nano X also currently comes with a Bitcoin bonus of 30 US dollars. When offset against the normal price of the Ledger Nano X of 149 euros, you can achieve a discount of around 20 percent through Black Friday. The Ledger Nano X is a top model among hardware wallets and scores over simpler products with Bluetooth for convenient connection to smartphones and tablets.
Finally, the third Black Friday offer from Ledger concerns a bundle. Here, the Ledger Nano S Plus and Nano X must be ordered in the "Ledger Nano Duo" package and then you will receive 50 US dollars back in Bitcoin, the equivalent of around 46 euros. Such a combination is recommended, for example, if you manage your assets in Bitcoin and Co. on the Ledger Nano S Plus as a savings plan and use the Ledger Nano X in your day-to-day business.
Time and again, we have to report on hacks where the use of a hardware wallet would have put a stop to cyber criminals. But the bankruptcy of crypto exchanges such as FTX has also demonstrated this many times over: Those who store their Bitcoin, Ethereum and other cryptocurrencies on a hardware wallet do not even get into the situation of suddenly no longer having access to a customer account. In our large market report, we compare common hardware wallets and you can find out why we consider Ledger Nano S Plus and Ledger Nano X to be the best option in their price ranges.
Conclusion: Black Friday at Ledger – save up to 50 US dollars in Bitcoin
In our experience, Ledger offers major discounts on its hardware wallets two or three times a year. When this happens in the form of a Bitcoin bonus, it is particularly exciting because your BTC discount can still increase in value when the price curve rises. It is important to remember that you must order your hardware wallet directly from the manufacturer, as manipulated devices are often sold on marketplaces such as eBay. Black Friday at Ledger is your opportunity to save a lot of money when buying a Nano S Plus or Ledger Nano X. The Ledger Hardware Wallet Black Friday runs until November 27 and is of course also the perfect time to buy Christmas presents that are perfect for Bitcoin and Co.
---