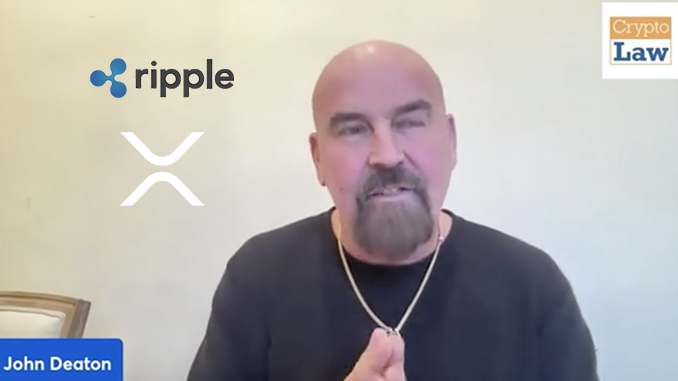 Ripple (XRP) did not fare so well last week, falling by around 7 percent. But statements by crypto lawyer John Deaton are encouraging. He is relaxed about the continuation of the lawsuit between Ripple and the SEC.
News about Ripple and XRP: Investors in the fourth most important global cryptocurrency by market capitalization always have the seemingly endless legal dispute with the US Securities and Exchange Commission (SEC) in the back of their minds. Crypto lawyer John Deaton took a close look at this in the latest broadcast of CryptoLawTv. He says that even if Ripple is still fined in mid-2024, the fine is likely to be considerably lower than sometimes feared. Ripple will have to answer for selling XRP to institutional investors.
The upcoming 2024 trial is a result of the first court battle between Ripple and the SEC over XRP, in which the crypto company was able to celebrate a major partial victory in July. However, Judge Analisa Torres also ruled in the summer that XRP sales worth around 750 million US dollars must be examined in separate proceedings. Deaton now explains: "Since 95 percent of Ripple's sales in question took place outside the US, the SEC will only be able to argue the amount of penalties and compensation payments to a very limited extent. Also important: Judge Torres has now issued an order on the timetable. Accordingly, the SEC must decide by March 13, 2024 what exactly it wants from Ripple for the XRP sales to institutional investors. Deaton then expects a ruling by July 2024.
Elsewhere, it was false news about XRP that shook investors. A screenshot made the rounds at the beginning of the week, suggesting that asset manager BlackRock had applied for approval of an XRP ETF. For weeks, the prospect of Bitcoin ETFs in the US has been causing optimism on the crypto markets. The supposed news of an ETF for XRP caused an abrupt price jump. Investors bet on margin trading with XRP – and lost many millions of US dollars when the whole story turned out to be fake.
Conclusion: Ripple and XRP can't get rid of their past
Among the 20 largest cryptocurrencies, XRP is the weekly loser with a 7% drop. Ripple's litigation risks against the SEC are a factor here, and the false news about an XRP ETF is also likely to have spoiled investors' appetite.
---