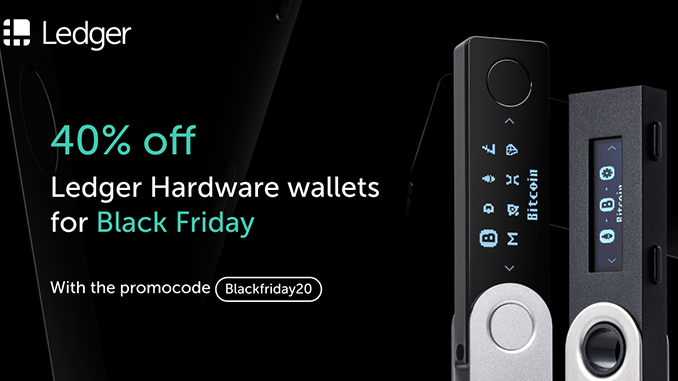 Ledger's popular hardware wallets will be available from Monday afternoon with a 40 percent discount. The discount applies to the Ledger Nano S as well as the Ledger Nano X. Never before have the proven reliable hardware wallets been available directly from the manufacturer at such a low price.
Watch out: If you don't have a hardware wallet yet or if you want a second one, you have the opportunity to buy a Ledger at much reduced prices starting Monday (November 23, 2020) 16:00 German time. The French manufacturer of the hardware wallets Ledger Nano S and Ledger Nano X is offering a big discount campaign in the run-up to "Black Friday". According to Ledger, especially the Nano X has never been sold so cheap directly from the manufacturer. To get the discount, you only have to enter the code "Blackfriday20" on the Ledger website when ordering and you will benefit accordingly.
Brief comparison of Ledger Nano S and Ledger Nano X
Hopefully we don't have to explain to anyone anymore why a hardware wallet is the safest place to store balances in Bitcoin and Co. Contrary to Hot Wallets for instance, Hardware Wallets are not directly connected to the Internet, but store Bitcoin and almost all leading Altcoins separately on a small piece of hardware behind a special security chip. In the everyday life this solution permits still another comfortable handling with crypto currencies, lets on-line criminals run up however.
User-friendliness and the number of directly supported crypto currencies are also what our experience shows in direct comparison with the competing models of Trezor for Ledger. The Ledger Nano S is thereby the standard model, which is already for years driven out, which seizes up to 20 different Altcoins beside Bitcoins. The Ledger Nano X has been available since May 2019 and is positioned as the top model. In addition to extended memory for up to 100 crypto currencies, it is Bluetooth that makes the difference with the Ledger Nano X. This makes it easy to connect to a smartphone, for example.
The list price of the Ledger Nano X is 119 Euro and drops with the discount to less than 80 Euro. The Ledger Nano S normally costs 59 euros, but with a discount it is less than 40 euros.
Conclusion: Early Christmas present from Ledger
How long the reduced prices will be valid after Monday for Ledger, we do not know yet. But 40 percent discount on the prices (promotion code: "Blackfriday20") is really an order of magnitude that is quite impressive. At this point we would like to remind you once again: Buy your hardware wallets only directly from the manufacturer, because in offers via resellers malicious manipulations of the newly appearing devices have been noticed repeatedly. So: Add the date to your calendar and enjoy the added security of trading crypto currencies at unbeatable low prices of Ledger Nano X and Nano S.
---